Hi, I am going to give you a fantasy football outlook on all 32 teams. I will be doing this in alphabetical order. It will be 32 teams in the next 32 days. I will be giving a fantasy stud, fantasy bust, fantasy breakout player, fantasy sleeper, top fantasy rookie, and since some leagues do defensive players – instead of team defensive, I will be doing top fantasy defensive player. So let's get this started. Please follow me on Twitter @aaron_truesdale.
Fantasy Review:
The Eagles are questionable when it comes to fantasy football as there is plenty of potential fantasy talent. On a side note, a couple of fans wanted to address Kenneth Gainwell in my Eagles article and since he isn't part of any of my categories, I will asses him now. Gainwell is going to end up playing a Darren Sproles type roll for the Eagles but he won't be fantasy football relevant for at least a couple of years. So now, let's address the Eagles fantasy outlook so these are the players I came up with to look for and avoid.
Fantasy Stud: Miles Sanders RB
Sanders will be a 'money' running back one in fantasy football this season. This is another guy whose injuries could be an issue but I believe he will put all those injuries behind him and will become one of the elite running backs in fantasy football.
Fantasy Bust: Zach Ertz TE
Ertz's days are number in Philadelphia. I am surprised he hasn't been traded or released already. However, for now, he remains an Eagle. Goedert is the tight end to own on this team. If you want to take chance and draft him in the very late rounds of fantasy drafts, you can, because he could be a borderline low-end tight end two or high-end tight end 3. If you're in a dynasty league, cut all ties.
Fantasy Sleeper: Travis Fulgham WR
Fulgham burst onto the fantasy scene the first half of last year with all the injuries to the Eagles wide receiver core. However, in the second half, he just faded away. This season, I say he will not look like the guy in the first half of the year but he won't be as bad as he was in the second half last year. He will be more mediocre and is worth a late-round flier.
Fantasy Breakout: Jalen Hurts QB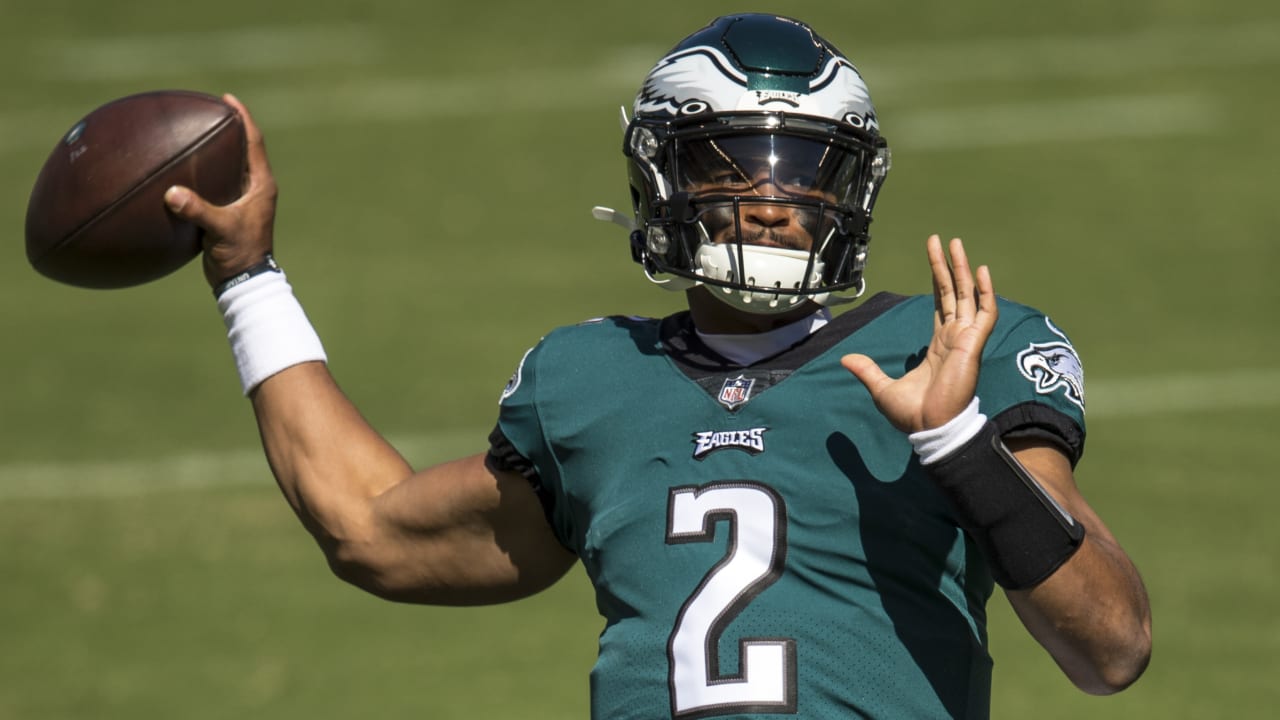 Hurts is going to be a double threat in fantasy because not only will he throw the ball, but he will also make plays with his legs. If the Eagles players around him stay healthy, he will be a low-end quarterback one. If not, he will probably only be a quarterback three at best. Draft him as a backup that could end up being a starter on fantasy football rosters.
Top Fantasy Rookie: DeVonta Smith WR
Smith will be one of the top rookie wide receivers in fantasy football and I believe he will be at least a wide receiver two in fantasy football by season's end. I believe he has the potential and a good chance at being a wide receiver one in fantasy football.
Top Fantasy Defensive Player: Fletcher Cox DT
Cox is a force to be reckoned with on that Eagles defense. He will put up nice fantasy football numbers and he is one of the more consistent defensive players in fantasy. What you see is what you get with Cox, and if you see what I see, he should be rostered and drafted in all fantasy football leagues.
I hope you enjoy my Team Fantasy Outlooks. Please comment to let me know what you think I welcome the feedback. I also will be more than happy to discuss any player or team further.