Hi, here is my final mock draft of the year. I will also be picking the teams without a first-round pick. There will be no trades in my Mock Draft. Hope you enjoy it. You can follow me on Twitter @aaron_truesdale.
Round 1:
1. Jaguars: Trevor Lawrence QB Clemson
This is just a brainer he has been the clear-cut number pick from the beginning.
2. Jets: Zach Wilson QB BYU
Since the Jets traded Darnold there is no doubt they go quarterback in this spot. Wilson in my opinion is the best quarterback in this draft.
3: 49ers: Mac Jones QB Alabama
I know this is not the popular pick and 49ers fans will not be happy with this pick. Everything I have been reading points to Jones.
4: Falcons: Trey Lance QB North Dakota State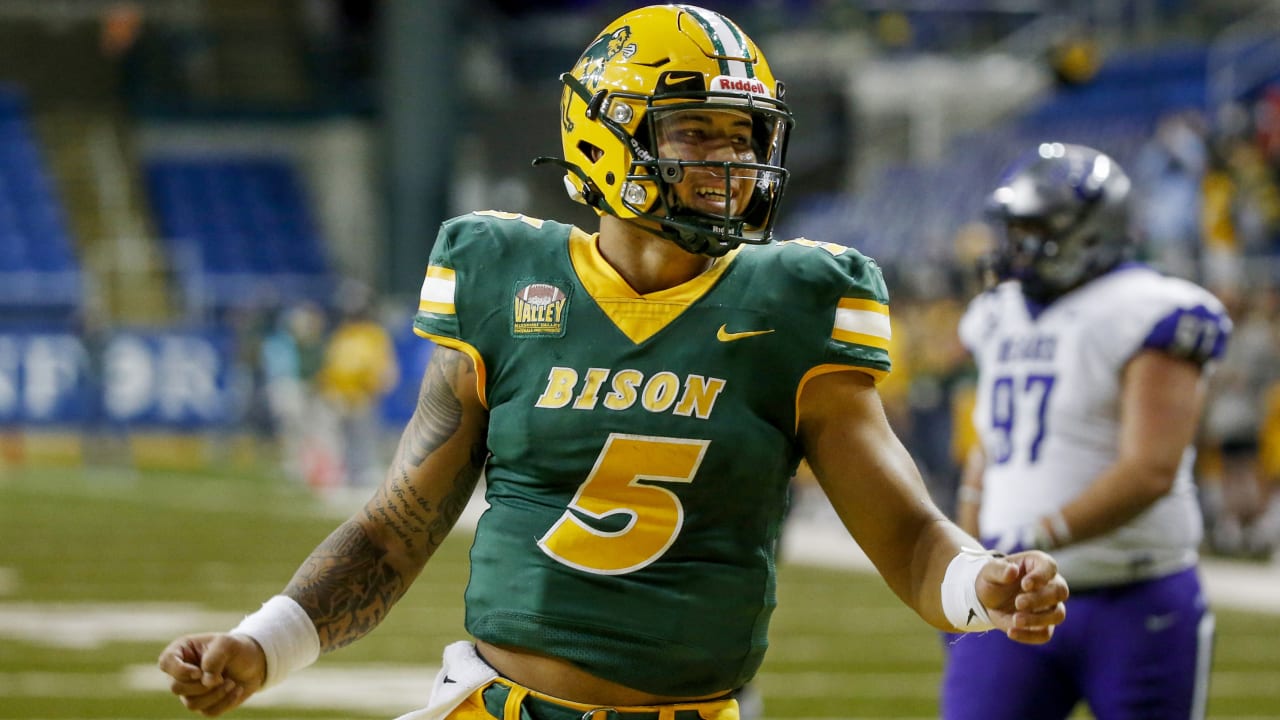 Falcons could go different ways with this pick but I believe they will take Matt Ryan's successor. Lance is raw but sitting a year behind Ryan will help develop Lance into the Falcons, next franchise quarterback.
5. Bengals: Kyle Pitts TE Florida
Bengal fans might not like this because they feel the offensive line is their biggest need. I believe they take Pitts and get Burrow another high-powered weapon first because I feel they can still get a high-caliber offensive lineman with there 2nd round pick.
6. Dolphins: Ja'marr Chase WR Lsu.
Dolphins will be excited about this pick to get Tua another weapon. I don't feel he is the top receiver in this draft but he is the most highly touted though. I wouldn't be surprised if they went with Fields though because I don't know how much faith the Dolphins have in Tua.
7. Lions: Devonta Smith WR Alabama
Originally I had Fields here because I believe they don't have much faith in Goff but they have more pressing needs especially at wide receiver they need a big playmaker. I have them taking who I feel is the best receiver in this draft in Smith from Alabama.
8. Panthers: Peini Sewell OT Oregon
Panthers just acquired Darnold now they got to protect their new franchise quarterback and no better way to do that than draft the best offensive lineman in this draft. Darnold will find this pick to be a Sewell one.
9. Broncos: Justin Fields QB Ohio State
Broncos fans will be happy to get their franchise quarterback at the 9th pick in the draft. I believe Fields will be the quarterback to drop in the draft due to his recent epilepsy diagnosis. It's unfortunate but the Broncos are willing to take the risk.
10. Cowboys: Patrick Surtain II CB Alabama
Cowboys fans will be happy that the Cowboys will get the best corner in the draft out of Surtain. Even though I believe he is the second-best corner in this draft. This pick will immediately impact this defense.
11. Giants: Rashawn Slater OT Northwestern
The Giants need to get some protection for Jones and more blockers for Barkley. Slater is a good first step towards that goal.
12. Eagles: Jaylen Waddle WR Alabama
The Eagles traded down knowing they could still get a good receiver at twelve. It was a smart move on their part they get more picks and still get a great quality receiver in Waddle.
13. Chargers: Alijah Vera-Tucker OL Usc
Chargers will go Vera-Tucker with this pick. He is the most versatile offensive lineman in this draft. Their goal is to protect Herbert who is their new franchise quarterback.
14. Vikings: Kwity Paye EDGE Michigan
Vikings need to put pressure on the opposing quarterback. Paye is a great step to achieve that goal. Who in my opinion is the second-best edge rusher in this draft.
15. Patriots: Micah Parson LB Penn State
Patriots will get one of the biggest steals of the draft when Parson falls to them at 15. Belichek will be quick to pull the trigger.
16. Cardinals: Jaycee Horn CB South Carolina
This has been my most consistent pick in my mock draft. Horn will help that weak Cardinals defensive backfield. Horn is the perfect fit for their defensive system.
17. Raiders: Zaven Collins LB Tulsa
Raiders need to improve their defense especially the pass rush. Collins is the perfect guy to do that. I believe Collins is the best linebacker in the draft. He is also the most complete linebacker in this draft as well.
18. Dolphins: Ozeez Ojulari EDGE Georgia
Dolphins defense is already a great defense and there going to make it even better by drafting Ojulari who in my opinion is the best edge rusher in this draft.
19. Football Team: Christian Darrishaw OT Virginia Tech
With no quarterbacks left worth taking in the first round they will go with protecting their veteran quarterback. Darrishaw will be a great player to do that. I believe the Football Team will wait until the second round to take a quarterback.
20. Bears: Rashod Bateman WR Minnesota
Bears signed Dalton in the offseason which isn't the sexiest signing in the world but he will do for this year anyway. For Dalton to be successful, you got to get him another solid receiver to go with Robinson. Bateman isn't the biggest receiver name in this draft but I believe in his first year he will be a solid number 2 receiver for the Bears.
21. Colts: Greg Newsome II CB Northwestern
Colts need help in their defensive backfield. Newsome is a very underrated cornerback in this draft and he is a good pick for the Colts because I believe he will be a stud corner from day one.
22. Titans: Jeremiah Owusu-Koraboah LB Notre Dame
Titans are another team that needs help with their pass rush. So Koraboah will a good start for them to accomplish that. Even though I am not too high on him I believe he will solid linebacker in the NFL.
23. Jets: Najee Harris RB Alabama
The Jets got their quarterback with their first pick in the first round. Now they will get a running back to help take pressure off of Wilson. Even though I'm not too high on Harris and think he will be bust. In the Jet's mind, he is the stud running back for years to come.
24. Steelers: Travis Etienne RB Clemson
Steelers have so many needs they could go many different ways this pick. I originally had Caleb Farley penciled into this spot but I believe they have to get a running back to take pressure off of Ben. So Etienne is my pick here for the Steelers. I believe Etienne is the best running back in this draft.
25. Jaguars: Teven Jenkins OT Oklahoma State
The Jaguars got their franchise quarterback out of Lawrence in their first first-round pick. Now they will help protect their franchise by taking Jenkins to bolster their weak offensive line.
26. Browns: Christian Barmore DT Alabama
Browns recently released Richardson so this will set them up to take the most disruptive defensive lineman in this draft in Barmore out of Alabama.
27. Ravens: Kadarius Toney WR Florida
Ravens have built their offense on speed, speed, and more speed. Now they will add even more speed to their offense to make it even scarier with drafting Toney out of Florida.
28. Saints: Caleb Farley CB Virginia Tech
Saints will get the biggest steal in the draft by taking Farley. Farley is the best cornerback in this draft in my opinion. Farley will prove the team's wrong for passing on him due to injury.
29. Packers: Terrace Marshall Jr. WR LSU
The Packers have got to make Rodgers happy this year in the draft. So that will start by selecting wide receiver Marshall out of LSU. Giving them a big dynamic wide receiver to compliment Adams. This pick will put a big smile on Rodgers's face.
30. Bills: Gregory Rosseau EDGE Miami (FL)
Bills need help on defense with putting pressure on opposing quarterbacks. Rousseau will be the perfect fit for the Bills and they will be surprised he is still on the board when their pick comes up.
31. Ravens: Joseph Ossai EDGE Texas
Ravens defense needs to improve already good defense. They would like to get back to the devastating defense it once was and taking Ossai will be a great first step towards that.
32. Buccaneers: Samuel Cosmi OT Texas
The Buccaneers need to protect Brady more and they will be ecstatic that Cosmi is still there for them and he will be the perfect guy to solidify the offensive line.
Team's With No First Round Pick:
Round 2:
56. Seahawks: Nick Bolton LB Missouri
The Seahawks need to improve a once-great defense that has turned mediocre at best. Bolton will be a good compliment to the defensive scheme. He is not the most athletic linebacker but he will help with stopping the run in a big way.
57. Rams: Jabril Cox LB Lsu
The Rams defense needs to improve their linebacking core. They will take Cox out of Lsu who I feel is a steal in the second round. A lot of teams may regret not taking him earlier because, in my opinion, he has first-round talent.
58. Chiefs: Rondale Moore WR Purdue
The Chiefs lost Watkins in the offseason so they got to get a solid number two receiver to compliment Hill. Moore will be that guy and he will be a great value where the Chiefs get him in the draft.
Round 3:
67. Texans: Kellen Mond QB Texas A&M
With a huge question mark on Watson's future in the NFL. The Texans will look to get their next franchise quarterback in the third round. Mond out of Texas A&M will be the guy they're confident in to be their next franchise quarterback.
Please comment and let me know what you think of my mock draft. I would be happy to discuss any pick further.