The Tennessee Titans are next in my top 5 greatest franchise players of all time tour as I finally near the end of my journey. The Titans currently are sitting at the cusp of what could be a borderline Super Bowl team or a Ryan Tannehill hitting a decline away from rebuilding. Either way one thing we can agree on is, at least their not the Jets right? LOL. Anyways, the Titans have had some great players come through over the years and it is time for me to give you my top 5. Let's get it.
Honorable Mentions
Derrick Mason, Wide Receiver (1997-2004)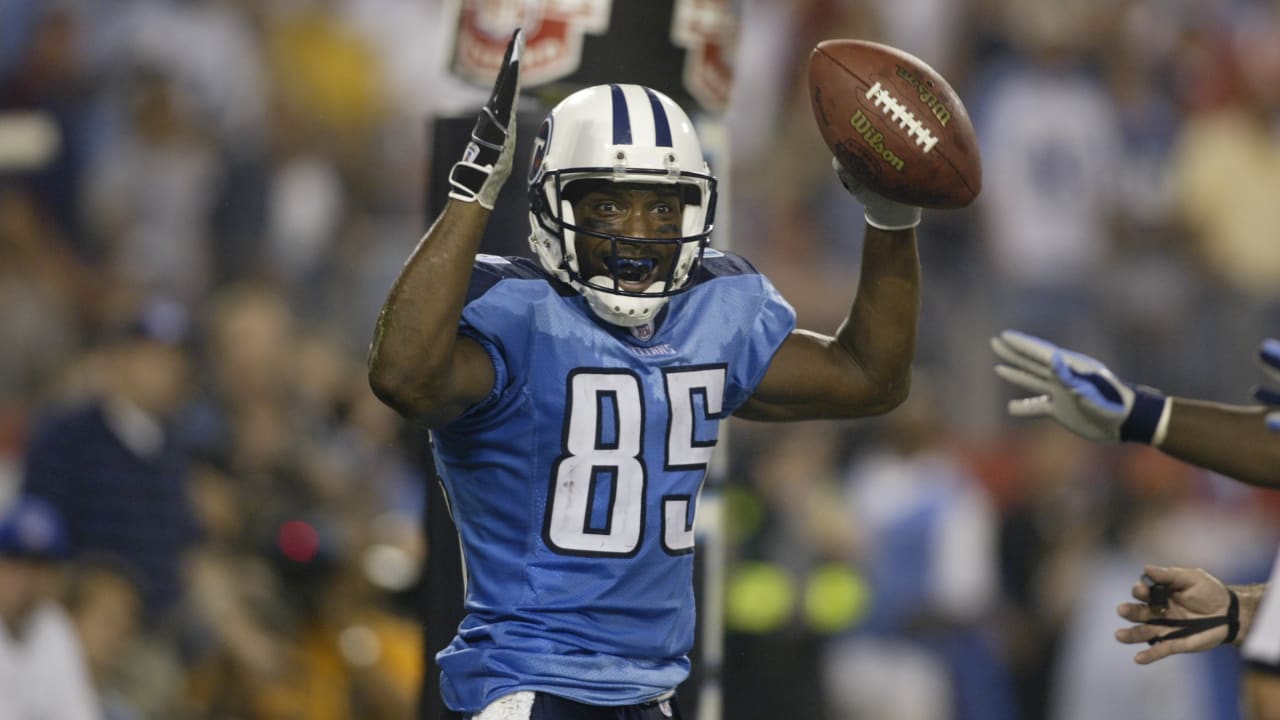 Even though he didn't finish his career with the Titans, there is no doubt that Derrick Mason made an impact in his time there. Mason made one All-Pro team and two Pro Bowls in his time with the team. As of the 2019 off-season Mason held at least 26 Titan franchise records including most career punt and kickoff return yards and most career punt returns as he was a as great as a returner as he was as a receiver.
Keith Bullock, Linebacker (2000-2009)
Keith Bullock spent ten years with the Titans and was their defensive captain and leader for majority of his time there. He helped lead the team to five postseason berths and putting up impressive numbers each year with the team. He only missed 3 games in 10 years and finished top 10 in the league in total tackles three different times while also notching three All-Pro teams and one Pro Bowl also in his accomplished career.
Jurrell Casey, Defensive Line (2011-2019)
Jurrell Casey had a monstrous run with the Tennessee Titans. Collecting five Pro Bowl appearances and a second-team All-Pro selection in his time there. Casey played both defensive end and defensive tackle on the line and his versatility was a huge asset for the team. Even though he had a rough break up with the team, Casey to me will always be one of the Titans I remember and one of the best.
5.) Chris Johnson, Running Back (2008-2013)
Chris Johnson was virtually untouchable in the open field due to his blazing speed which helped him rush for 2,006 yards in 2009 which was his second season in the league. he also produced 2,509 yards from scrimmage that season while setting a single-season NFL record in the process. He helped lead the Titans to the postseason as a rookie in 2008 and following that performance up with over 2,000 rushing yards in 2009, Johnson went on to record at least 1,000 yards rushing in each of his six seasons in Tennessee.
4.) Bruce Matthews, Guard/Center (1983-2001)
Bruce Matthews made 14 consecutive Pro Bowls (9 at guard, 5 at center) that tied Hall of Famer Merlin Olsen for the most ever. Matthews was also named first-team All-Pro nine times (1988-1993, 1998-2000) and All-AFC 12 seasons (1988-1993, 1995-2000). He was selected as a guard on the NFL's All-Decade Team of the 1990s. Matthews was one of the most dominate offensive lineman in the NFL during his tenure and was named a member of the NFL 1990s All-Decade Team and the NFL's 100th Anniversary All-Time Team. Matthews was one of a kind and it feels like being fourth on my list doesn't even do him justice.
3.) Jevon Kearse, Defensive End (1999-2003, 2008-2009)
After bursting onto the scene winning the league's Defensive Rookie of the Year in 1999, Kearse immediately helped lead the Titans to the Super Bowl with 14.5 sacks that year and set the NFL record for sacks in a single-season for a rookie. Kearse went on to reach three Pro Bowls alongside one All-Pro selection, all while becoming one of the most recognizable faces in the NFL for quite a few years. Most people think Keith Bullock is the most dominate Titan's defender of all time but as you see by my list I think its Jevon Kearse with all due respect to Keith Bullock.
2.) Eddie George, Running Back (1996-2003)
Eddie George was a staple of the Tennessee Titans and remains a huge part of the organization to this day. Eddie George and Steve McNair made for one of the best one-two punches in the NFL during their time together in Tennessee. George spent all but one season of his career with the Titans and rushed for more than 1,000 yards seven times in eight seasons with the team accounting for 64 touchdowns during that time. Running for more than 10,000 yards in his tenure with the team George is still the all time leader in rushing yards to this day. Maybe Derrick Henry can catch him someday. Did I forget to mention George helped lead the Titans to four playoff appearances, an AFC Championship, an appearance in the Super Bowl and all while accumulating four Pro Bowl appearances, an Offensive Rookie of the Year Award and an All-Pro nod? Yet George fell short by one spot of number one just behind…
1.) Steve McNair, Quarterback (1995-2005)
This was a close one between McNair and George but McNair plays the most important position on the field and that gives him the nod for me. McNair spent 11 of his 13 seasons with the Titans and made three Pro Bowls and won NFL MVP with the team. He led the franchise to the postseason four times capped off in a Super Bowl appearance in 1999. The Titans have never reached the Super Bowl since McNair was on the team. He was one of the toughest, grittiest and likeable guys in the NFL and I am proud to have McNair as my number one Tennessee Titan of all time.
Be sure to check out The Buzz for all your sports, wrestling and entertainment needs as well as some great live shows and podcasts.