Its time for my top 5 greatest players list of my hometown team the Cincinnati Bengals. I sometimes think I am the curse of the Bengals because since I was born in 1990 they have yet to win a playoff game. Luckily for them with Joe Burrow on the team now the Bengals have a bright future but one thing I want to focus on along with the present is some of the past Bengals greats. As much as people love to mock the Bengals they have had some really good players over the years and I am going to give you my top 5 Cincinnati Bengals of all time. Lets get it going!
Honorable Mentions
AJ Green, Wide Receiver (2011-present)
After being drafted fourth overall by the Bengals in 2011, Green showed his worth by making the Pro Bowl in his rookie season, making him the first rookie receiver to make a Pro Bowl appearance since Anquan Boldin in 2003. From 2011 to 2013 Green caught more passes (260) than any other player in NFL history. That record has since then been broken by Odell Beckham Jr. Green entered 2020 ranked second in team history in career receptions (602) and receiving yards (8907), and tied for second in receiving TDs (63) behind Chad Johnson.
Corey Dillon, Running Back (1997-2006)
Corey Dillon is easily the best running back in the history of the Cincinnati Bengals. Dillon played in 107 games as a Bengal, starting 95 of them as well as ranking first in both Bengals history with 8,061 yards on 1,865 carries. He also has 192 catches for 1,482 yards. The star running back was also a Pro Bowl selection each year in between 1999-2001.
Geno Atkins, Defensive Tackle (2010-present)
Geno Atkins has been a force in the middle of the Cincinnati Bengals defensive line for over a decade. Atkins has twice been selected as a first-team All-Pro and is an eight-time Pro Bowler. He was drafted in the fourth round of the 2010 NFL Draft and that pick has been proven to be a steal. Geno has the most sacks in Bengals history by an interior lineman and has led the Bengals in sacks five times in his career.
5.) Chad Johnson, Wide Receiver (2001-2011)
The Cincinnati Bengals selected Chad Johnson in the second round of the 2001 NFL draft and he played with the team for ten seasons and produced at a very high level. After seeing moderate playing time in his rookie season, Johnson busted onto the scene in 2002 where he had 69 catches for 1,166 yards and five touchdowns. In 2003 he set a Bengals franchise record by having 1,355 yards receiving on 90 catches and a career best 10 touchdowns. Johnson holds many Bengals franchise records such as receptions, receiving yards, receiving touchdowns, 1000 yard seasons and games with 1 or more touchdowns. Johnson's outgoing personality and touchdown celebrations along with his fantastic play on the field makes him a Bengal that fans won't ever forget.
4.) Ken Riley, Defensive Back (1969-1983)
Riley played for 15 seasons with the Cincinnati Bengals after being selected in the sixth round of the 1969 Common Draft. Ken was named All-Pro after the 1973, 1975, 1976 and 1983. Making an immediate impact for the Bengals as a rookie, Riley had four interceptions, two recovered fumbles, had 334 yards on 14 kickoff returns and even caught two passes for 15 yards on offense. His best season came in 1976 when he recorded nine interceptions, scored one touchdown, and had two fumble recoveries. His nine interceptions set a franchise record for most interceptions in one season, and would remain the team record for 30 years until it was broken by Deltha O'Neal in 2005. In his 15 seasons in the NFL, Riley recorded a total of 65 interceptions, had 596 return yards, scored five touchdowns, made 18 fumble recoveries for 96 fumble return yards, and added 334 kickoff return yards and 15 receiving yards. His interceptions, interception return yards, and interceptions returned for touchdowns are all Bengals records.
3.) Boomer Esiason, Quarterback (1984-1997)
The Bengals made Boomer Esiason their selection with the 38th overall pick in the second round of the 1984 NFL Draft. Esiason was not happy that he was available still in the second round and played with a chip on his shoulder for all of his career. His best season came in 1988 when he led the team to a 12-4 record while throwing for 3,572 yards and 28 touchdowns. He won the MVP for his performance last season and led the Bengals all the way to the Super Bowl where they lost to Joe Montana and the San Francisco 49ers. Esiason was named to the Pro Bowl game after the 1986, 1988, 1989 and 1993 seasons and holds several NFL career records for left-handed quarterbacks, including most touchdown passes (247), passing yards (37,920), and completions (2,969).
2.) Ken Anderson, Quarterback (1971-1986)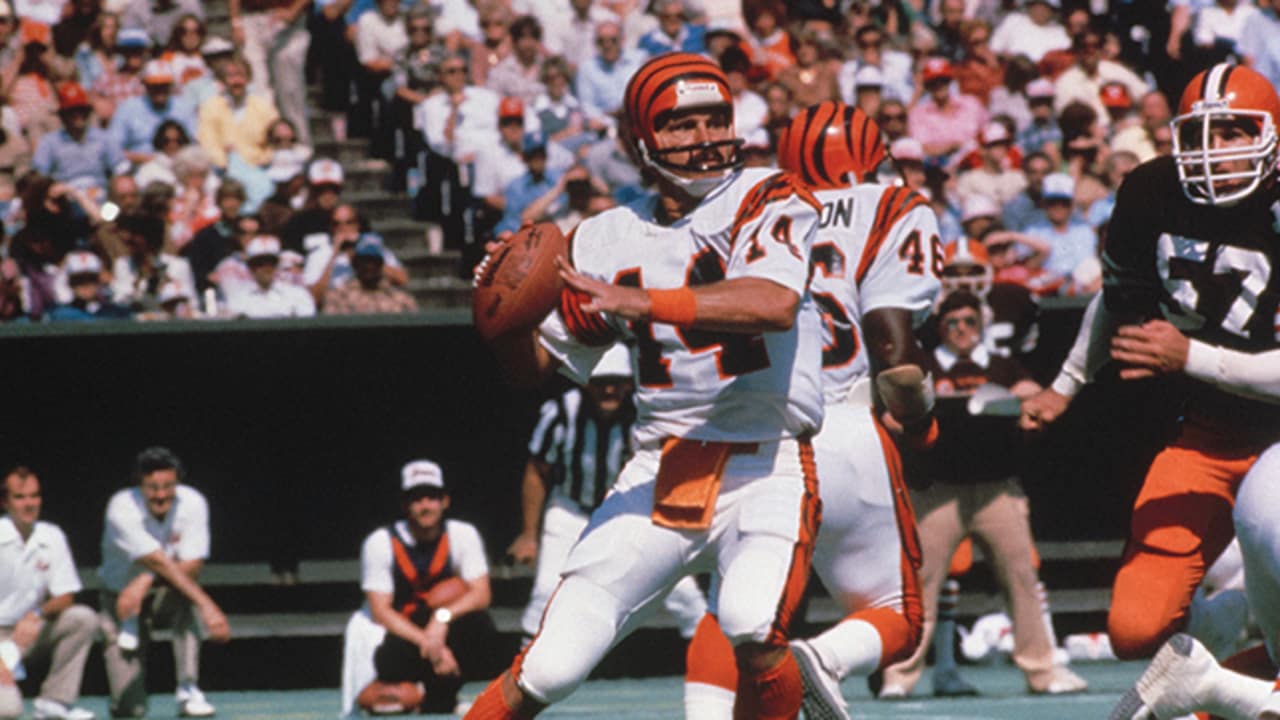 Before there was a Boomer Esiason there was Ken Anderson. Anderson was 91-81 in his career in Cincinnati and threw for 32,838 yards and 197 touchdowns. Anderson also led the Bengals to their first Super Bowl and even though they lost, in my opinion, he is still the best quarterback in Cincinnati Bengals history. His best season was in 1981 where he threw for 3,754 yards and 29 touchdowns.
1.) Anthony Munoz, Offensive Tackle (1980-1992)
Anthony Munoz is the best player in the history of the Cincinnati Bengals and honestly its not even debatable. He is after all the only Cincinnati Bengal in the NFL Pro Football Hall of Fame. Munoz was the third pick in the 1980 NFL draft and he took the left tackle job over as a rookie and never looked back. Many people consider Munoz the greatest offensive lineman in history, like myself. Munoz has 4 touchdown passes during his time as well. Bengals fans hope that Joe Burrow will be in this spot in 15 years but for now it's Munoz's to lose and I don't see it changing anytime soon.
Be sure to check out The Buzz for all your sports, wrestling and entertainment needs as well as some great podcasts and live shows.