As a life long wrestling fan and die hard New England Patriots fan I could not resist the cover photo for this article. Think about it, Bill Belichick suffers through the 2020 NFL season with a depleted roster and then as soon as free agency starts he goes into "Money In The Bank" cash in mode and starts signing all the top free agents. Too much? OK, I'm done, let's get back to the topic at hand. It's important to point out that this is just the first week since NFL free agency has started and the New England Patriots have already completely revamped their roster. Granted I am on record for saying that the Belichick/Brady "rivalry" is overblown and a product of the media but I bet you Bill is going to have a chip on his shoulder this year to get New England back to to postseason and potentially the Super Bowl after their underwhelming season last year. I'll be honest I didn't really have a premise for this article at first. It's one of those things where I just have thoughts in my head I wanna put on paper and I just start writing and let it flow from there. I did come up with the premise just now. I am going to give you the reasons why the New England Patriots are on their way back and why the NFL should be on high alert. You have the greatest coach in NFL history coaching with a chip on his shoulder you better watch out here's why.
He somehow went 7-9 with a depleted roster
Does anyone remember the guy pictured above? Yeah, that's only the greatest quarterback in the history of the NFL and Bill (even though he chose to let him go) was tasked with trying to replace him last season, in a pandemic, with no salary cap room, with a weak free agent class of quarterbacks. Brady struggled with New England in 2019 due to lack of weapons on offense so you could argue that no matter who was behind center wasn't going to be successful. Not only that the Patriots had the most opt-outs of any NFL team last year. Those players were linebacker Dont'a Hightower, safety Patrick Chung, tackle Marcus Cannon, wide receiver Marqise Lee, fullback Danny Vitale, running back Brandon Bolden, tight end Matt LaCosse and offensive lineman Najee Toran. Now being realistic the only players that really hurt were Dont'a Hightower, Patrick Chung and Marcus Cannon as they were proven leaders and produced on and off the field for the team for many years. Then you bring in Cam Newton, who was coming off an injury, in a new system, with even less talent around him than Brady had in 2019 and on top of it Cam gets COVID after starting out the season very very well. I mean what more do you want them to deal with? Cam did as good as he could do as did Bill with the hand they were dealt. You had key players such as WR Julian Edelman, RB James White and CB Stephon Gilmore miss numerous games throughout the season as well. Rookies and young players were littered all across the defense and this team still managed to rank in the middle of the NFL in points allowed, which let's be honest is the only stat that should matter when it comes to defense. Obstacles galore were in front of this Patriots team but yet you had them in the thick of the playoff chase for a few weeks and with close losses to Denver, Buffalo, Houston and even staying competitive against the AFC Champ Kansas City Chiefs with Brian Hoyer playing quarterback, this team was a few plays away from being 10-6. All the haters can say what they want but this is absolutely incredible to me and just shows you the Bill is the best coach at getting the most out of his team and proves it year in and year out.
The Patriots have filled almost every need in free agency
The New England Patriots went into free agency this year and did something they never do: SPEND MONEY. Over the years they were always the team to sit back and let the market develop then go out and shop for the best value deals. That didn't happen this year. With many NFL teams struggling to get under the salary cap, New England pounced and grabbed almost all of the top free agents available. The Patriots signed tight ends Hunter Henry and Jonnu Smith, WR's Kendrick Bourne and Nelson Agholor, defensive linemen Davon Godchaux, Deatrich Wise, and Henry Anderson, CB/S Jalen Mills, Linebackers Matthew Judon and Kyle Van Noy and re-signed special team aces Justin Bethal and Cody Davis. Reports are they still aren't done as they were a finalist for WR AJ Green who ended up signing with the Arizona Cardinals. Let's get through these players. Henry and Smith offer New England their best tight end duo since Aaron Hernandez and Rob Gronkowski and gives whoever lines up at quarterback two great passing options, while both guys are good run blockers as well. Bourne and Agholor are both upgrades over everyone New England had at wide receiver last season outside of Julian Edelman (who did miss damn near the whole year). Godchaux, Wise and Anderson provide depth and a reset along the defensive line that was much needed after being ranked in the bottom half of the NFL in sacks and run defense last season. Defensive Back Jalen Mills is a vintage Belichick signing and will play all over this defense and help offset the retirement of safety Patrick Chung (which was announced today). Judon was the big get on the defensive side of the ball as he is a very good pass rusher and can line up all along the front seven and give the Patriots their best pass rusher since Trey Flowers. Then you have Kyle Van Noy who for some reason the Dolphins cut last week who is now back into the fold playing for a defensive he thrived in. I mean what hole is left on this team? Oh yeah, quarterback right? The Patriots did re sign Cam Newton last week to a one year deal but one thing that did was show Cam isn't guaranteed anything. Now with almost all of their needs filled the Patriots have the flexibility to use their draft capital and excess players to either move up in the draft to get a quarterback they like or trade for one on the trade market. I think the Patriots can be successful with Cam but I'm in the minority on that which is fine. But the two quarterbacks that the Patriots are pursuing (you're not going to convince me they haven't reached out about these guys) would be guys who would put them right back into Super Bowl contention. Who are they you might ask?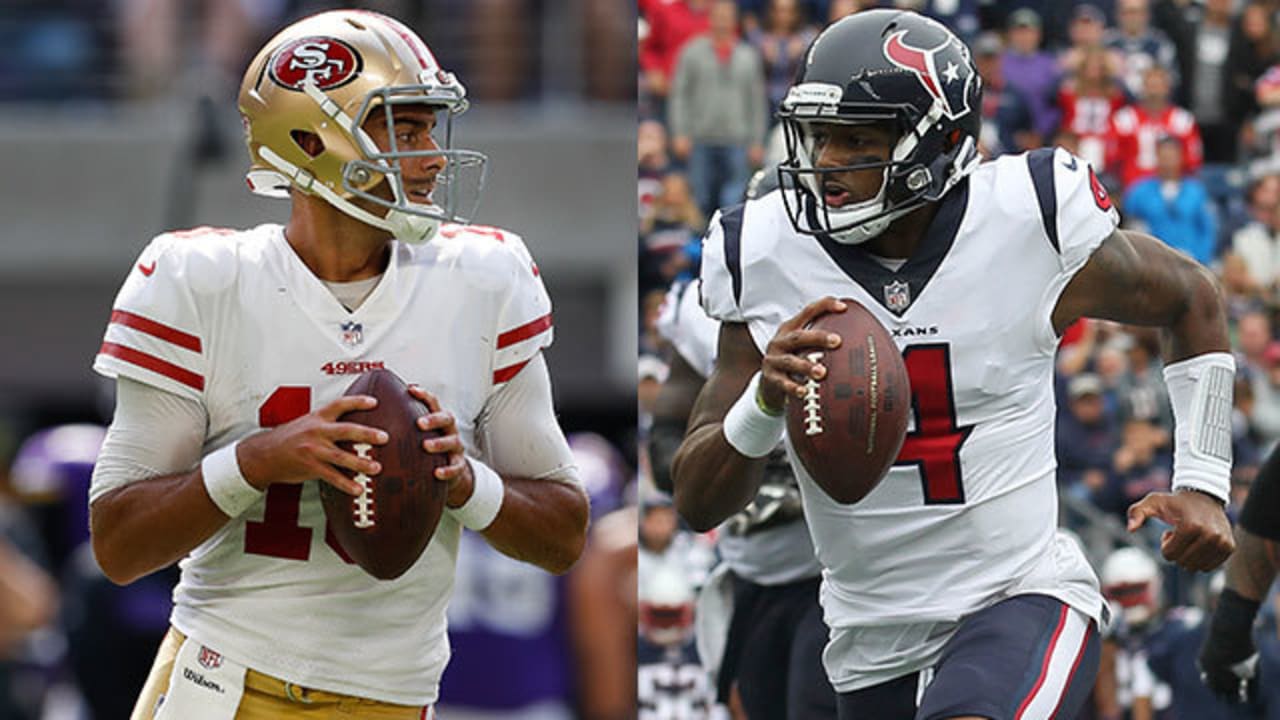 The Patriots aren't done yet
If the Patriots land either quarterback above they will be in the Super Bowl next year, barring injuries. This team is a quarterback away and hell I'll argue if they get a slightly better version of Cam that just does a better job at taking care of the ball, I think they can compete at the highest level with anyone. You look at the Jimmy G scenario and it's obvious the fit due to the history with New England. We all know Bill wanted to ship out Brady to keep Jimmy and this would be an interesting full circle story if he did end up back with New England. But we know the main prize would be Houston Texans quarterback Deshaun Watson. Now we all know about his reported "lists" and what not but when you look at all the moves made above are you honestly telling me you don't think Watson is interested in New England now? There is no way they haven't gotten his attention. But then you look at the trade chips it would take to land a Watson and everyone keeps saying it's unrealistic for New England. It's far from unrealistic and here is why. Houston Texans general manager Nick Caserio just got there after working with Bill in New England. DO NOT undervalue the fact they know each other when it comes to trading. How many trades have the Patriots made with past front office workers in the past? A TON OF THEM. Plus, everyone always wants to talk about draft picks. DRAFT PICKS, DRAFT PICKS, DRAFT PICKS. Draft picks are only as good as what you do with them. I don't care how many draft picks a team acquires it doesn't beat actual players. I will trade a high draft pick for a proven player and young player on the rise any day of the week. The Patriots can offer both. Bill has what 2 to 3 more years left? Do you think he cares how the Patriots look draft pick wise in the 2024 NFL draft? The answer is he doesn't care. Bill wants to win now and I get this feeling all these signings were made with a purpose. Let's say he offers Houston their 15th pick, 2022 and 2023 first round picks, a 2022 2nd round pick and players such as CB JC Jackson or Stephon Gilmore, LB's Chase Winovich or even Josh Uche? With Smith and Henry in New England now what about just drafted tight ends Devin Asiasi and Dalton Keene? Keep in mind Caserio was a part of the Patriots and helped draft and pick these players. You don't think with all the holes on the Texans roster that 3 or 4 of these players wouldn't help? It's a lost year anyways, they signed QB Tyrod Taylor already so ride that out for a year and go into next off season and get a young quarterback. This is a realistic option for Houston and if you don't think relationships matter in sports you're an idiot. Last concern would be cap space. Since New England has spent a ton already if they need to clear up cap room they could easily restructure contracts of players such as Devin McCourty, Dont'a Hightower, Trent Brown, Stephon Gilmore or Shaq Mason to create some room. The team just loaded up on defense and has the extra players available to move in a trade and the contracts they can restructure to make the cap work. It makes sense and is possible, just because you don't want it to happen because it scares you as a anti-Patriots person, don't hate the logic because it's all there.
Take all of that in. Go ahead, breathe in and breathe out. Haters start getting mad and Patriots fans its time to start getting excited for the upcoming season. This team is reloaded (with moves to still be made) and almost ready to roll. It's an exciting time in the NFL as we are nearing the draft in April and camps are expected to open up on time this year. One thing fans (except Patriots fans) should not be looking forward to is: THE NEW ENGLAND PATRIOTS ARE BACK and they are out for blood. They have heard the doubters and the criticism and they are ready to shove it right back up your a$$es. We are on to 2021 and it is going to be a revenge tour for Bill Belichick and the New England Patriots and teams across the NFL better get ready.
Be sure to check out The Buzz for all your sports, entertainment and wrestling needs as well as a great variety of live shows and podcasts.