The Washington Football Team is my next and final team on my tour around the NFL and giving you my top 5 franchise greats. Two things about this team I wanna say is, one, they need an actual name and two, they have a lot more iconic players than I first imagined. One of the coolest things about doing all of these lists is the fact I got to watch film, read up on and study hundreds of legendary NFL players and as a football lover I had a blast. This is my final top 5 list but be sure to go to The Buzz and check out all my other work as well as other great content we have. Enough plugging, lets get to my final top 5 list.
Honorable Mentions
Sean Taylor, Safety (2004-2007)
Sean Taylor played four seasons before he tragically passed leaving the world way too soon. He was going to be someone I think would honestly have one or two on this list if he was able to live his full life. Taylor twice earned Pro Bowl honors and was one of the most feared hitters in the NFL. The Miami Hurricane product had 12 interceptions and eight forced fumbles in his 57 career games regular season and postseason combined.
Charley Taylor, Wide Receiver (1964-1977)
Charley Taylor was inducted into the Pro Football Hall of Fame in 1984 and for good reason. Taylor played his whole career with Washington and helped lead the 1972 team to the Super Bowl. He also holds team records for most career touchdowns (90), second on the all-time receptions list (649) and finished his career with 9,110 receiving yards and 79 touchdown catches. Taylor also played some running back early in his career and ranks third all-time in the team's history in points scored with 540.
Russ Grimm, Guard (1981-1991)
Drafted in the 3rd round by Washington in the 1981 NFL Draft, Grimm was an original member of the "Hogs" and played his whole career with team. Grimm played on the 1982, 1987 and 1991 Super Bowl teams and was named to the NFL's All-Decade Team for the 1980, was a first team choice at guard. Grimm was also inducted into the Washington Ring of Fame and was the offensive line coach of the team from 1992-2000.
5.) Dexter Manley, Defensive End (1981-1989)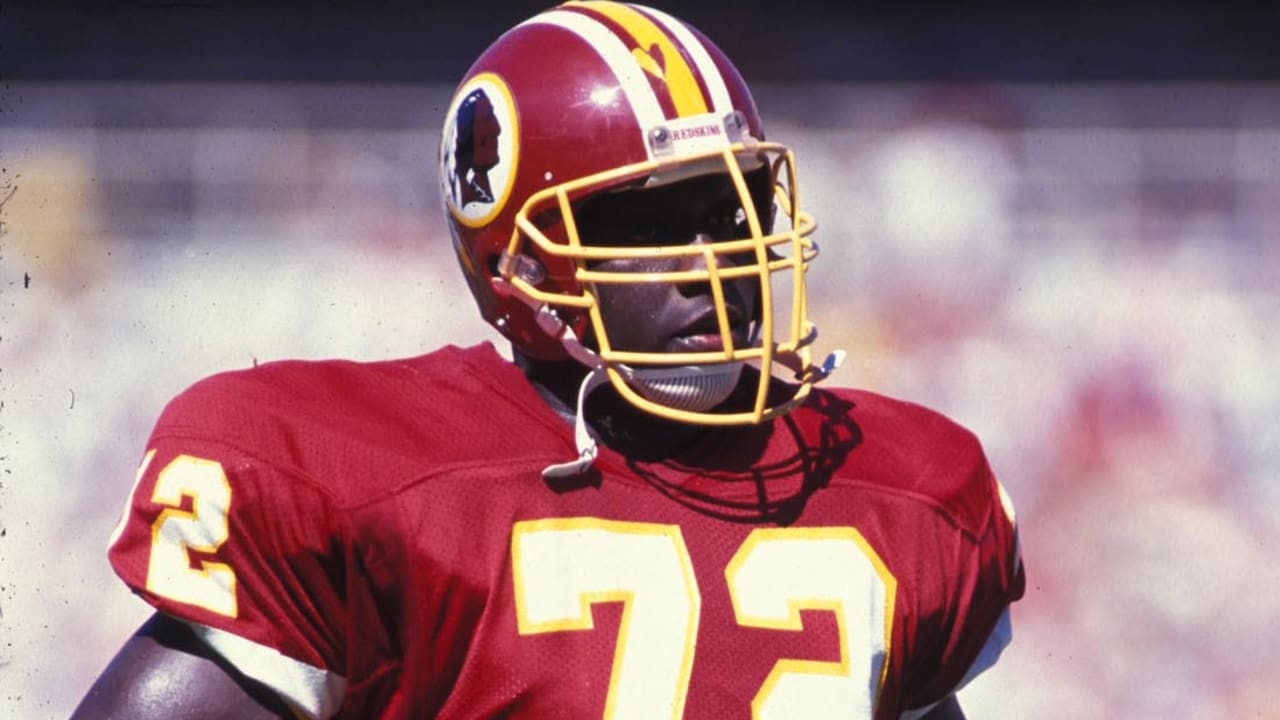 Dexter Manley is the all-time sack leader in Washington's team history registering 18.5 of them in 1986. He helped lead the team to a Super Bowl title in the 1987-1988 seasons while many say the most memorable moment was defeating the arch rival Dallas Cowboys in the NFC Championship game. Coach Joe Gibbs inspired Manley and helped give him the winning attitude and with Dexter's help that spread out to the whole team. Manley loved Washington and he for sure gave it all he had when he was on the football field.
4.) John Riggins, Running Back (1976-1979, 1981-1985)
John Riggins is the all-time leader in rushing yards and rushing touchdowns in Washington's team history. He led the team to victory in Super Bowl XVII with a very memorable 43-yard game-winning touchdown run on fourth and one. Riggins was also named MVP of that Super Bowl for rushing for 166 yards in the game. Riggins was elected to the Pro Bowl in 1976 and was inducted into the Pro Football Hall of Fame in 1992.
3.) Sammy Baugh, Quarterback (1957-1964)
Check out that high quality image right there, wow. "Slinging Slammy" as he was called is a member of the Pro Football Hall of Fame after being inducted in 1963. He holds the most touchdown passes in Washington history with 187 and ranks third in passing yards with 22,085. Did I mention he was a six-time passing leader? He ended his career with 22,085 yards and 187 touchdowns passing with 31 interceptions. Also winning two World Championships in 1937 and 1942 and was part of five All-Star games.
2.) Art Monk, Wide Receiver (1980-1993)
Drafted in the first round of the 1980 NFL Draft out of Syracuse, Monk played a huge role in taking Washington to the Super Bowl four times during his tenure with the team. During his tenure the team won three championships and Monk accumulated so many good seasons that he holds team records for career receptions, career receiving yards, most receptions in a game and most receptions in a season. When Monk retired he was the NFL's All-Time receptions leader and let's not forget the three Pro Bowl selections he had as well. To pay off all his accolades the NFL inducted Monk into the Pro Football Hall of Fame in 2008.
1.) Darrell Green, Cornerback (1983-2002)
Darrell Green is considered one of the fastest players in the history of the NFL. He is the team interception leader with 54 and holds the record for longest tenure with one team. Green played in 3 Super Bowls with the team and says his proudest accomplishments were playing 20 years with the team and living with integrity. Green was huge in the Washington community and is one of the most respected Washington players in history. He was inducted into the Pro Football Hall of Fame in 2008 and my top Washington player of all time.
Be sure to check out The Buzz for all your sports, wrestling and entertainment needs as well as some great live shows and podcasts.