I'll be honest with you all so far this was the easiest top 5 list to make mainly because of the fact I got to see most of these players play in the 25 years I've been watching the NFL. The Panthers have had pretty decent success over the last 10 years or so but are in the middle of a rebuild at the moment. This was one of the more fun lists for me to make so I'm going to quit wasting time and lets get to my top 5 Carolina Panthers of all time.
Honorable Mentions
Thomas Davis, Linebacker (2005-2018)
Thomas Davis is a warrior! In route to becoming a three-time Pro Bowler, Davis overcame a litany of adversity as he tore his ACL three separate occasions, all on the right knee. Davis remains the only professional athlete ever to play through three separate ACL tears. Davis made three Pro Bowls (2015-17). His best season came in 2015, when he was named a first-team All-Pro having accumulated career-highs in sacks (5.5), forced fumbles (4), interceptions (4) and passes defended (7). Davis was also a great person off the field being named the 2014 Walter Payton NFL Man of the Year and is the Panthers all time leader in solo tackles (789) and total tackles (1098). He was a very close call to making my top 5 list. I'm a huge fan of the guy.
Sam Mills, Linebacker (1995-1997)
After being an undrafted player out of Montclair State College, Sam Mills ended up having quite a successful career in the NFL. After a stint with Cleveland, Mills went on to play in the CFL before returning to the NFL and spending nine successful seasons with the Saints. As a free agent in 1995 he ultimately signed with the Panthers and Mills performed right out of the gate sealing the franchise's first win by intercepting a shovel pass from Jets quarterback Bubby Brister and returning it for a touchdown. Between 1995 and 1997, Mills had some of his best seasons as a pro despite being at the end of his career where most players tend to start to slow down. He recorded a career-high five interceptions in 1995 and was selected to his fifth Pro Bowl in 1996, becoming the oldest player at the time (34) to earn the honor. He was also named a first-team All-Pro selection for the first time in his career that season. He retired from the league following the 1997 season and finished with over 1,200 total tackles.
Jordan Gross, Offensive Tackle (2003-2013)
Jordan Gross came to the Carolina Panthers as their 8th-overall pick in the 2003 NFL Draft and stepped right into the starting lineup and never looked back over the course of the next 11 seasons. Gross is considered to be the best left tackle in Panthers history and displayed great flexibility along the offensive line. He was just as productive at right tackle, which is where he started his rookie season and it was good enough to earn him a spot on the 2003 All-Rookie Team. He switched between the two positions every now and then, but played the vast majority of snaps at LT from there on out, serving as the primary protector of Jake Delhomme's blind side as well as Cam Newton's. Gross started all but eight games in his career and committed only 11 holding penalties which is absolutely mind blowing to me. A three-time Pro Bowler and 2008 first-team All-Pro, Gross remains one of the greatest to ever put on a Panther uniform and was another really close call to making my top 5 list.
5.) Greg Olsen, Tight End (2011-2019)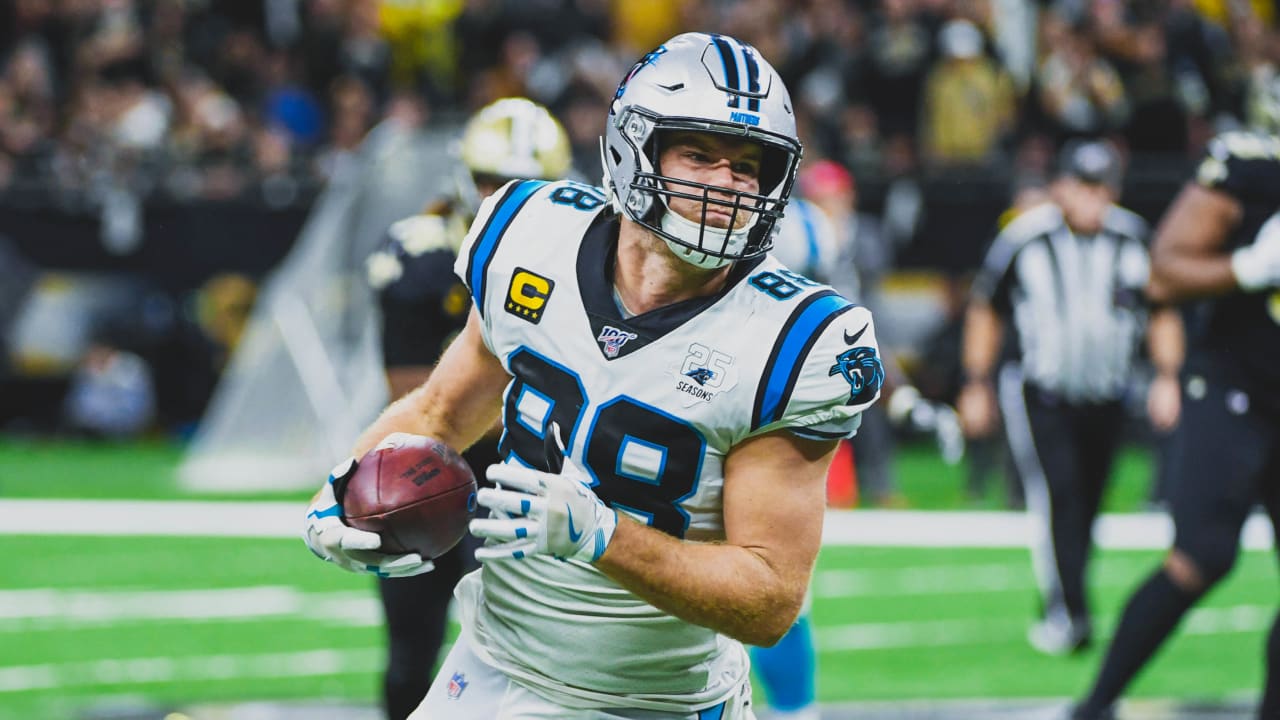 Greg Olsen was a first-round selection by the Chicago Bears in 2007 and came to the Panthers by trade in 2011. Carolina gave up a third-round pick which turned out to be an absolute steal for the Panthers. Olsen hadn't yet entered his prime at the time and came to the Panthers just as they had acquired quarterback Cam Newton from Auburn. The timing couldn't have been more perfect. Olsen recorded at least five touchdowns in each of his first five seasons with Carolina and his best stretch came from 2014-2016 in which he was selected to three-straight Pro Bowls and cleared 1,000 yards receiving each year, becoming the first tight end to achieve such an accomplishment. During his nine seasons with the Panthers, Olsen recorded 524 receptions for 6,463 yards and 39 touchdowns and was the ultimate safety blanket for Newton. He sits at the top of the list of Carolina tight ends and ranks third in team history in catches and yards.
4.) Luke Kuechly, Linebacker (2012-19)
If Luke Kuechly hadn't retired at a young age I honestly think he would end up higher on this list. Kuechly was an absolute beast. Kuechly led the NFL in tackles with a career-high 164 in his rookie season and he recovered three fumbles, intercepted two passes and collected 12 tackles for loss. He also earned the Defensive Rookie of the Year award. His second year in the league he won the NFL Defensive Player of the Year award. He made seven consecutive Pro Bowls (2013-19) which is only second to Bears Hall of Fame linebacker Mike Singletary for the most Pro Bowls consecutively made in which Singletary had 10. Kuechly was also selected five times to the first-team All-Pro and twice to the second-team All-Pro and was much more than just a tackling machine. In addition to averaging 145 tackles per year over his career Kuechly excelled in pass coverage. He piled up 65 passes defensed, 43 pass breakups and 18 interceptions as well. It's crazy how good Luke was at literally everything. I really wish he didn't retire so early. If he hadn't I think he could of went down as not only one of the best Panthers of all time but one of the NFL's best linebackers of all time.
3.) Julius Peppers, Defensive End (2002-09, 2017-18)
After being taken with the number 2 overall pick in the 2002 NFL Draft, Julius Peppers spent the first eight years and the last two seasons of his career as a member of the Panthers. The defensive end also won the NFL Defensive Rookie of the Year award in Carolina. Peppers made nine Pro Bowls in his career, four coming with the Panthers. The six-time All-Pro defensive end was so dominant with Carolina he got named to the 2000s NFL All-Decade Team. Peppers registered the most sacks (97) in team history and is also the franchise's all-time leader in forced fumbles (34) and tackles for loss (107). He is the only player in NFL history to record both 150+ sacks and 10+ interceptions. Peppers was a force to be reckoned with in his NFL career with his best days being in the state of North Carolina.
2.) Steve Smith, Wide Receiver (2001-2013)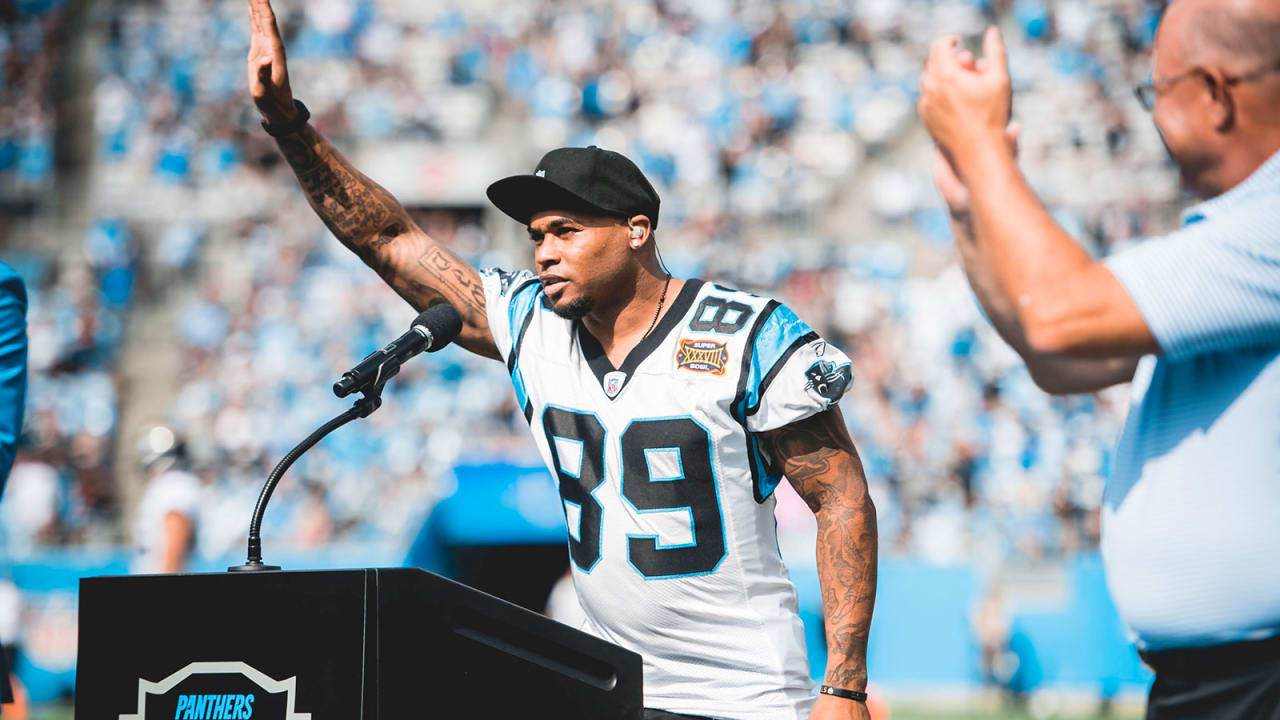 Smith made five Pro Bowls (2001, 2005-06, 2008, 2011) with the Panthers and was a first-team All-Pro in his rookie season in 2001 and during his great 2005 season. He earned a second-team All-Pro selection in 2008. The best year of Smith's career came in 2015 when he completed the football version of a (receiving) triple crown by leading the NFL in receptions (103), receiving yards (1,563) and touchdowns (12). He also received the NFL's Comeback of the Year award after missing 15 games the previous season with a broken leg. One of the most outgoing personalities of his time, Smith was always an entertaining player to watch and was very close to being the best Panther of all time but that honor goes to…
1.) Cam Newton, Quarterback (2011-19)
Selected with the first overall pick in the 2011 NFL Draft, Newton balled out right off the bat. In his first professional game, Cam threw for 422 yards, two touchdowns and one interception, while rushing eight times for 18 yards and a touchdown. Newton made the Pro Bowl in his first season and won Offensive Rookie of the Year, setting a single-season NFL record for rushing touchdowns (14) by a quarterback. He also was the first player in NFL history to pass for 4,000 yards and rush for 500 yards in a single season. Newton led the Panthers to four postseason appearances in his tenure, including three consecutive trips (most in team history) from 2013-15 and holds the franchise records for QB wins (68), passing yards (29,041), passing touchdowns (182) and rushing touchdowns (58). He captured NFL Most Valuable Player, Offensive Player of the Year honors, an All-Pro selection in 2015 as well as posting career-highs in touchdown passes (35) and passer rating (99.4). Cam is also the first player in league history with at least 30 passing touchdowns and 10 rushing touchdowns in a single season. He led Panthers to a 15-1 record, which ended with an appearance in Super Bowl 50. Cam is easily the best Carolina Panther of all time. If you disagree give me one good reason why below in the comments.
Be sure to check out The Buzz for all your sports, wrestling and entertainment needs.