This was a very interesting top 5 list for me to do as I have seen all of these players play in the NFL. The Houston Texans returned to the NFL in 2002 and have already had some legendary players walk through their locker rooms. They have had multiple playoff appearances, won multiple division championships and have a few player (that you may see on my list) that are sure to be in the Pro Football Hall of Fame one of these days. Although right now the Houston Texans are going through a lot of drama heading into the off-season, I'm going to get back to the positives at give you my top 5 Houston Texans of all-time. Comment at the bottom of the page and give me your thoughts on the article.
Honorable Mentions
Deshaun Watson, Quarterback (2017-present)
Assuming that the Houston Texans can make amends with their current franchise quarterback I expect Watson will be number one on this list one day. Even after having a productive rookie season cut short by injury, Watson led the Texans to consecutive division titles between 2018 and 2019 and led the league in passing yards during 2020. He's also been a Pro Bowler in all three of his seasons in the league. Watson is one of the four quarterbacks in NFL history with a passer rating over 100.
Duane Brown, Offensive Tackle (2008-2017)
After being a first round pick in the 2008 NFL, Duane Brown took his place on a terrible Houston Texans' offensive line where he helped stabilize it and help take Houston's offense to the next level. Brown committed just one holding penalty over his first four seasons and blocked for an offense that set team records for total offensive yards every year from 2008 to 2010. He was a catalyst in helping lead Houston to their first playoff appearance in 2011.
Matt Schaub, Quarterback (2007-2013)
Matt Schaub owns nearly every major passing mark in the Texans' franchise record book, and was also the quarterback who finally lifted them into postseason contention. The fact he got them to their first postseason berth is a big reason why he made this list. Schaub had three seasons throwing for over 4,000 yards with his best season coming in 2009 when he led the NFL in passing yards with 4,770 yards. He missed the Texans 2010 playoff run do to injury but returned in 2011 to led Houston to a 12-4 record and picked up his first career playoff win. In his Texans career, Schaub completed 1,951 of 3,020 passes for 23,221 yards and 124 touchdowns.
5.) Mario Williams, Defensive End (2006-2011)
Mario Williams was the first overall pick of the Houston Texans in the 2006 NFL draft and most people thought that year the Texans made a mistake by drafting him over Reggie Bush. All Williams did was rewrite the Houston Texan's defensive record books. He played every game in his first four seasons and quickly became one of the top defensive lineman in the NFL. Williams was Houston's record holder for career sacks (53), single-season sacks (14), and single-game sacks (4), as well as career fumbles forced (11). Each record has since been surpassed by J.J. Watt, who we might see later on this list. Who knows?
4.) DeAndre Hopkins, Wide Receiver (2013-2020)
DeAndre Hopkins got out of Houston at the best possible time. We all are aware of the idiotic trade former Texans' coach Bill O Brien made shipping Hopkins to the Arizona Cardinals last year. Hopkins is second in Texans' history in receptions, receiving yards and receiving touchdowns. Hopkins produced these kind of stats playing with terrible quarterbacks such as Case Keenum, Brock Osweiler and Tom Savage early in his career and still produced Pro Bowl numbers each year. If Hopkins was a Texan for a few more years he might find himself as the best receiver in team history but he is the highest ranked one on this list…for now.
3.) Arian Foster, Running Back, (2009-2015)
Coming into the league in 2009 after going undrafted, Arian Foster is easily the biggest undrafted free agent pick up in Houston Texan history. After taking over the starting job in his second season Foster led the league in rushing in 2010 with 1,616 rushing yards and 16 rushing touchdowns. He had 2,220 total yards from scrimmage which led all other skill players. Foster made the Pro Bowl three times and is first in franchise history with 6,472 rushing yards and 54 rushing touchdowns and also has the fifth-most receiving yards in the team's history.
2.) Andre Johnson, Wide Receiver, (2003-2014)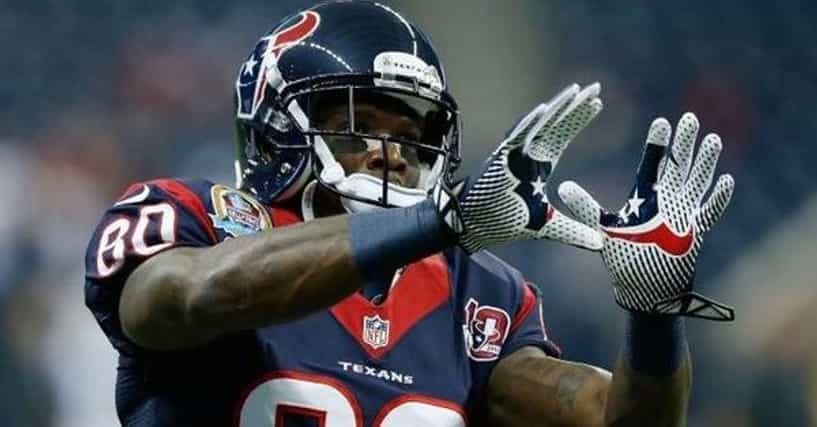 Andre Johnson spent 12 years with the Houston Texans and led the team in receiving in 10 of those seasons. Johnson with his huge 6-foot-3 frame imposed his will on defenses leading him to being the Texan's franchise leader in every significant statistical receiving category. Leading the NFL in receiving yards twice and in receptions twice, Johnson also earned two first-team All-Pro selections. Johnson has 1,062 catches and 14,185 yards in his career which is best for 11th in league history.
1.) JJ Watt, Defensive End (2011-2021)
JJ Watt is a three time NFL Defensive Player of the Year, five time First-team All-Pro, five time Pro Bowler, led the NFL in sacks twice, a member of the 100 sacks club. Oh yeah I almost forgot he is also a unanimous member of the NFL 2010s All-Decade Team, a member of the Sporting News 2010 All-Decade Team and won the Walter Payton NFL Man of the year in 2017. Watt and the Texans have recently parted way since Houston is rebuilding and Watt wants a chance to win a ring before he retires. No matter where Watt ends his career he will also be a Houston Texan and as of right now he is the greatest Houston Texan of all-time.
Be sure to check out The Buzz for all your sports, wrestling and entertainment needs as well as some great live shows and podcasts.