During the NFL season, every 4 weeks, I release a power ranking of the QB position. I include any injured or retired QBs so it's the first 32 and then whatever remainder is needed to cover all the starters at that point in the season. The Prinz Power Ranking takes into account the 2 previous seasons and the current season when evaluating a QB's play. For the offseason edition, I'll be ranking all 86 QBs that have a TD or a turnover in the past 2 seasons. For the first 8 tiers (32 QBs) I'll have a word or two on why they're there and then the rest will simply be listed. This can serve as a primer into the position going into Free Agency and the Draft. Let's take a look at the QBs now, shall we?
Tier 1 – The Best
Aaron Rodgers – Green Bay Packers (74 TDs 17 TOs)
Patrick Mahomes – Kansas City Chiefs (66 TDs 15 TOs)
1A and 1B, ARod and Pat have dominated the league in recent memory. They have the past 2 MVP awards and Pat has back-to-back Super Bowl appearances to enforce their almost obvious place on top.
Tier 2 – Super Stars
Russell Wilson – Seattle Seahawks (72 TDs 31 TOs)
Lamar Jackson – Baltimore Ravens (73 TDs 34 TOs)
Tom Brady – Tampa Bay Buccaneers (67 TDs 28 TOs)
Ryan Tannehill – Tennessee Titans (64 TDs 25 TOs)
Tannehill??? Yes. The 6'4″ 8th overall pick from A&M has played his way right into the elite conversation. Russ and Lamar are right outside of the top tier but turn the ball over a little bit too much. Tom did the unthinkable last year and his spot on the list is incredible at 43 and going into his 22nd year even if you think I'm underrating him.
Tier 3 – Elite Cornerstones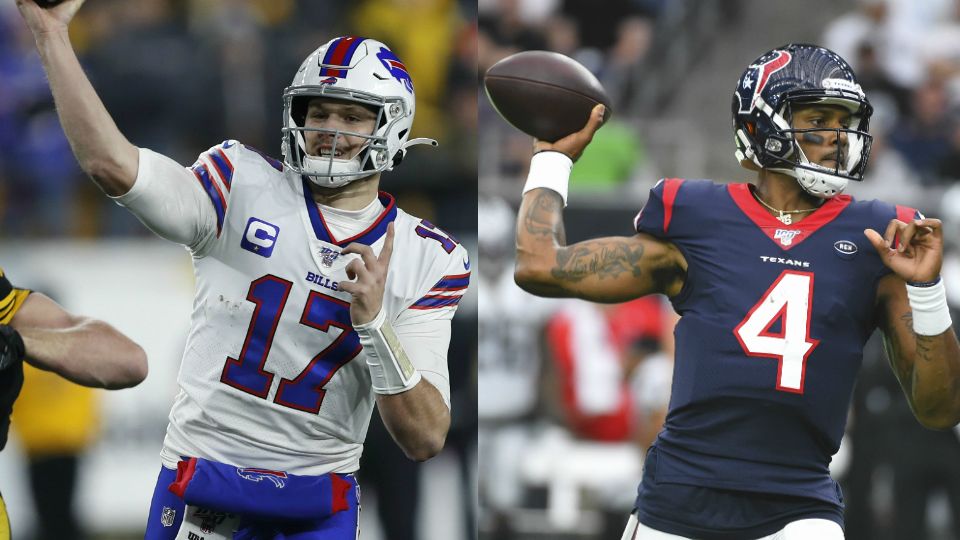 Josh Allen – Buffalo Bills (70 TDs 39 TOs)
DeShaun Watson – Houston Texans (67 TDs 37 TOs)
Both of these young guns are a fraction below the 2nd tier. Incidentally, Drew Brees, who just announced his retirement, would also be in this tier based on the past 2 years (54 TDs 16 TOs).
Tier 4 – Steady Stars
Kirk Cousins – Minnesota Vikings (62 TDs 37 TOs)
Kyler Murray – Arizona Cardinals (60 TDs 38 TOs)
Pundits who believe "QB wins" is a real stat are probably laughing at Kirk's place in this list. However, the numbers don't lie, and the numbers say he's been a potent and steady offensive force. Murray's play has been a little less consistent but it wouldn't be surprising to find him in the 2nd or 3rd tier with a couple more seasons of experience and growth.
Tier 5 – Locked in Starters
Matthew Stafford – Los Angeles Rams (44 TDs 22 TOs)
Dak Prescott – Dallas Cowboys (45 TDs 24 TOs)
Matt Ryan – Atlanta Falcons (53 TDs 37 TOs)
Derek Carr – Las Vegas Raiders (49 TDs 32 TOs)
These guys are locked in, won't have to worry about competition in the QB room, and with health and some roster help could easily be in the next tier up. The Prescott deal is huge, so expectations in Dallas are obviously very high so it will be interesting to see if he can meet them. While all of these guys are presumptive starters, they also all carry some risk long-term.
Tier 6 – Surprises
Justin Herbert – Los Angeles Chargers (34 TDs 16 TOs)
Ben Roethlisberger – Pittsburgh Steelers (30 TDs 12 TOs)
Gardner Minshew – Jacksonville Jaguars (37 TDs 25 TOs)
Surprise! That's right, Gardner Minshew has put up the 17th best ratio in the league the past two seasons. Now, this tier is an oddity because it has the aforementioned legend along with a rookie and an old vet who only played one of the last two seasons. So, it's safe to say the gap between Minshew and the next tier is actually smaller than it is to Herbert & Ben.
Tier 7 – The Rest of the Starters
Baker Mayfield – Cleveland Browns (47 TDs 41 TOs)
Ryan Fitzpatrick – Free Agent (40 TDs 31 TOs)
Jacoby Brissett – Free Agent (25 TDs 13 TOs)
Carson Wentz – Indianapolis Colts (48 TDs 48 TOs)
Jared Goff – Detroit Lions (46 TDs 45 TOs)
Jimmy Garoppolo – San Francisco 49ers (35 TDs 29 TOs)
Teddy Bridgewater – Carolina Panthers (28 TDs 20 TOs)
Mitch Trubisky – Free Agent (33 TDs 29 TOs)
I wrestled with what to call this tier. Not all of these guys were even starters the past two seasons. However, they still put up numbers that in the right situation could have earned a starting shot. Mayfield, Jimmy, and possibly Mitch are capable of playing up into the next tier or two. Goff and Wentz scored enough to be in the higher tiers but turned the ball over at ridiculous rates – probably why they'll both try on new colors in '21. Recent retiree Philip Rivers also played at this level (45 TDs 41 TOs).
Tier 8 – Kids and Questions
Andy Dalton – Free Agent (32 TDs 32 TOs)
Cam Newton – New England Patriots (20 TDs 14 TOs)
Taysom Hill – New Orleans Saints (16 TDs 10 TOs)
Tua Tagovailoa – Miami Dolphins (11 TDs 5 TOs)
Joe Burrow – Cincinnati Bengals (16 TDs 14 TOs)
Daniel Jones – New York Giants (38 TDs 48 TOs)
Sam Darnold – New York Jets (32 TDs 39 TOs)
The pair of rookies that sit near the bottom of the top-32 have both showed plenty of potential that '21 will find them several tiers higher. With Brees' retirement, Taysom Hill may finally get full control of the 1st-string offense and we'll see if he can really quarterback or not. Cam Newton is also an intriguing name as his ceiling has been as high as the 1st tier, but health and fitting into New England remain questions until he can prove he's still got it.
Who's Left
Here's the rest of the QBs with at least a TD or a TO the past 2 seasons and where they're currently playing.
Mason Rudolph – Pittsburgh Steelers (15 TDs 14 TOs)
Jameis Winston – Free Agent (34 TDs 43 TOs)
Marcus Mariota – Las Vegas Raiders (9 TDs 6 TOs)
Nick Foles – Chicago Bears (14 TDs 14 TOs)
Case Keenum – Cleveland Browns (12 TDs 11 TOs)
Drew Lock – Denver Broncos (22 TDs 27 TOs)
CJ Beathard – Free Agent (6 TDs 3 TOs)
Kyle Allen – Washington Football Team (24 TDs 31 TOs)
Jeff Driskel – Denver Broncos (8 TDs 7 TOs)
Brandon Allen – Cincinnati Bengals (8 TDs 7 TOs)
Matt Moore – Kansas City Chiefs (4 TDs 2 TOs)
Mike Glennon – Free Agent (8 TDs 9 TOs)
Chad Henne – Kansas City Chiefs (3 TDs 2 TOs)
Matt Schaub – Retired (3 TDs 2 TOs)
Jalen Hurts – Philadelphia Eagles (8 TDs 10 TOs)
Chase Daniel – Detroit Lions (4 TDs 4 TOs)
Blaine Gabbert – Free Agent (2 TDs 1 TOs)
Trace McSorley – Baltimore Ravens (1 TD 0 TOs)
Tyrod Taylor – Free Agent (1 TD 0 TOs)
Taylor Heinicke – Washington Football Team (1 TD 0 TOs)
Joe Flacco – Free Agent (12 TDs 17 TOs)
Eli Manning – Retired (6 TDs 8 TOs)
Nick Mullens – Free Agent (11 TDs 16 TOs)
Garrett Gilbert – Dallas Cowboys (1 TD 1 TO)
AJ McCarron – Free Agent (1 TD 1 TO)
Alex Smith – Free Agent (6 TDs 9 TOs)
Jarrett Stidham – New England Patriots (2 TDs 3 TOs)
David Blough – Detroit Lions (5 TDs 8 TOs)
Chris Streveler – Arizona Cardinals (1 TD 2 TOs)
Tim Boyle – Free Agent (0 TDs 1 TO)
John Wolford – Los Angeles Rams (0 TDs 1 TO)
Brian Hoyer – Free Agent (4 TDs 8 TOs)
Brett Rypien – Denver Broncos (2 TDs 5 TOs)
Nate Sudfeld – Free Agents (0 TD 2 TOs)
Ben DiNucci – Dallas Cowboys (0 TD 2 TOs)
Colt McCoy – Free Agent (1 TD 4 TOs)
Sean Mannion – Free Agent (0 TDs 3 TOs)
Jake Luton – Jacksonville Jaguars (3 TDs 8 TOs)
Robert Griffin III – Free Agent (1 TD 5 TOs)
Matt Barkley – Free Agent (1 TD 6 TOs)
Phillip Walker – Carolina Panthers (1 TD 6 TOs)
Josh Rosen – Tampa Bay Buccaneers (1 TD 6 TOs)
Ryan Finley – Cincinnati Bengals (0 TDs 5 TOs)
Will Grier – Carolina Panthers (0 TDs 5 TOs)
Devlin Hodges – Pittsburgh Steelers (5 TDs 13 TOs)
Dwayne Haskins – Pittsburgh Steelers (13 TDs 26 TOs)
Finally, some notables without a TD or TO the past 2 seasons:
Blake Bortles – Free Agent
Tyler Bray – Chicago Bears
Logan Woodside – Tennessee Titans
Tyler Huntley – Baltimore Ravens
David Fales – New York Jets
Brett Hundley – Free Agent