Well here we are at the top 5 list I have been dreading. The San Francisco 49ers are one, if not the most storied franchise ever. Legend, after legend, after legend has played for them over the years. Honestly, there are three or four different people I could put at the number one spot on this list. Unlike back in the day, the 49ers seem to be looking for an upgrade at quarterback in trying to get back to the Super Bowl that they were in and almost won in 2020. Quarterback has never seemed to be an issue for them as they have always seemed to just replace one with another and lose nothing. That brings me to this list. This is probably the most stacked list of all the teams and I was nervous/excited to do this one. Let me put my nervousness aside and let's get into the top 5 San Francisco 49ers of all time.
Honorable Mentions
Frank Gore, Running Back (2005-2014)
Frank Gore, who is currently a free agent, has said he would love to come play for the team he began his career with again and end his career where it started. Gore holds the 49ers record for most rushing yards in a game (212), most 100-yard games in a season (9) and most rushing yards in a season (1,695). He became the first 49er to lead the NFC in rushing yards during the 2006 season and he had a major role in sending the Niners to Super Bowl XLVII, which was their first Super Bowl since 1994. It would be cool to see him in a 49ers uniform again.
Patrick Willis, Linebacker (2007-2014)
After being selected 11th overall in the 2007 NFL draft, Patrick Willis went onto having a very successful 8 year career with the San Francisco 49ers. He earned seven Pro Bowl nominations and five first-team All Pro teams as well as getting a spot on the NFL's All-Decade team for the 2010s. Willis retired in 2015 at the age of 30 because of a nagging toe injury. Lord only knows what Willis could have accomplished more if he kept playing but regardless it was good enough to land on my honorable mention list.
Roger Craig, Running Back (1983-1990)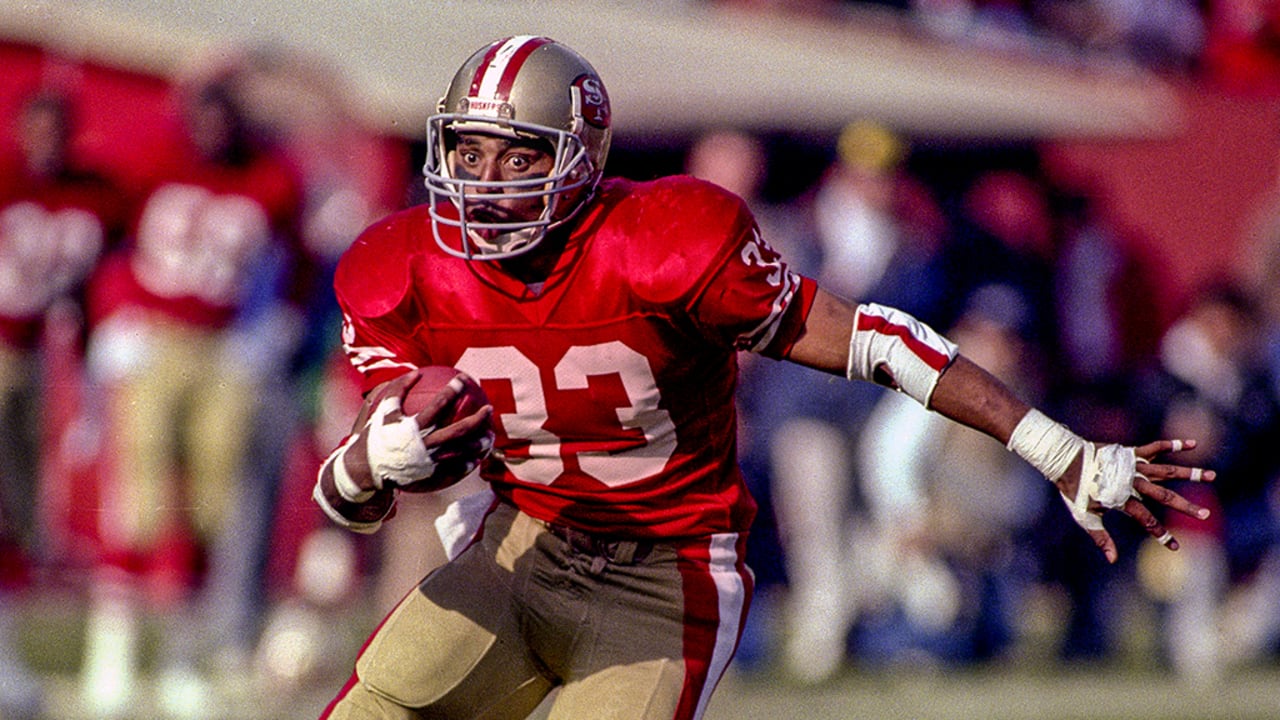 Roger Craig was the first running back to have 1,000 yards rushing and receiving in a season. His ability to both catch and run the ball made him a huge asset in and offense that also included Jerry Rice and Dwight Clark. Craig was a huge factor in helping the 49ers win three Super Bowls while he was with the team. He was the first player to ever score 3 touchdowns in one Super Bowl as well.
5.) Dwight Clark, Wide Receiver (1979-1987)
Dwight Clark was a mainstay at wide receiver for the 49ers in the 80s and he spent his whole nine-year career in San Francisco. Clark was vital in helping the team with Super Bowls in both 1981 and 1984 and who could forget "The Catch" from the 1981 NFC Championship Game against the Dallas Cowboys. That catch brought the 49ers their first Super Bowl and remains one of the most important plays in the history of the NFL even to this day.
4.) Ronnie Lott, Defensive Back (1981-1990, 1995)
Ronnie Lott was the leader of a great 49ers defense through the 1980s. He was a 4 time Super Bowl winner, 8 time first-team All-Pro, 10 time Pro Bowler, led the NFL twice in interceptions, a member of the NFL 75th and 100th anniversary teams as well as the first team NFL 1980s All-Decade Team and second team of the 1990s. In his rookie year, Lott snatched seven interceptions and he was the runner-up for the Rookie of the Year Award. Lott was the defensive leader and a huge part of the the team won four titles during his tenure there.
3.) Steve Young, Quarterback (1987-1999)
After being a back up to another legend (you will find out who that is soon) Steve Young went on to win a third Super Bowl. He had won two as a backup. Young's career started off in the United States Football League and he moved to the NFL in 1986 and played for the Tampa Bay Buccaneers. Lord if they knew what they had they probably would have held onto him. After two years with Tampa, he went to San Francisco. From there all he did was win 2 league MVPs, get selected to the Pro Bowl 7 times, be named All-Pro 3 times, earn All-NFC honors 3 times and get inducted into the Pro Football Hall of Fame in 2005. He also was the only quarterback in league history to win four consecutive NFL passing titles. Young would have been the best quarterback in team history if it wasn't for one guy…
2.) Joe Montana, Quarterback (1979-1992)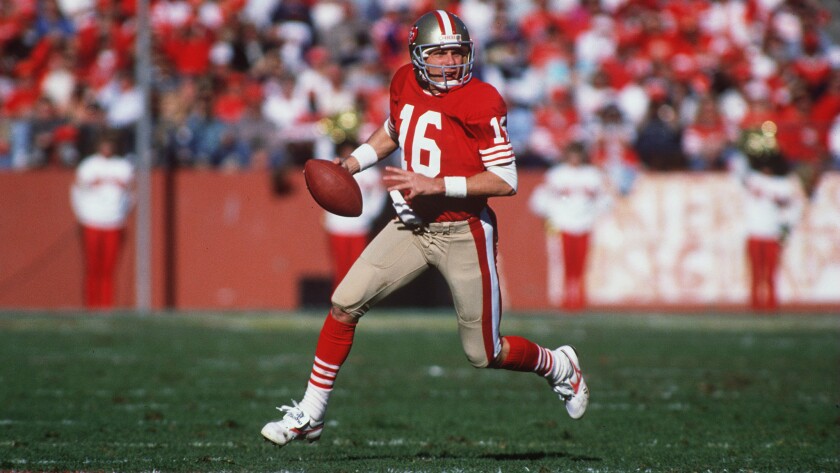 Joe Montana was the face of the 49ers franchise all through the 1980s where the team was dominate for most of the decade. Montana won four Super Bowls (1981, 1984, 1988, 1989) and was named Super Bowl MVP twice. That's not all, Joe was also a 8 time Pro Bowler and was the NFL league MVP in both 1989 and 1990. Nicknamed "Joe Cool," he lived up to it being one of the most clutch players the league ever saw. Montana was inducted into the Hall of Fame in his first year of eligibility (not shocking) and his number 16 jersey was retired by the franchise. After that guy up in New England, Joe will ranks second on my list of best quarterbacks of all time as well as top 49ers of all time. The only person above him was his favorite target on the field…
1.) Jerry Rice, Wide Receiver (1985-2000)
Jerry Rice was not only the best wide receiver in the history of the NFL you can argue he is the greatest player to ever play in the NFL as well. He still currently holds the league record for most receptions (1,549), touchdown receptions (197) and receiving yards (22,895). Rice was a 13-time Pro Bowler and a 12-time All-Pro selection in his 20 seasons in the NFL. 20 years, now that is some longevity. He won 3 Super Bowls with the team and also won MVP of Super Bowl XXIII with a ridiculous 11 catches for 215 yards, which at that time was an NFL record. Rice was a key reason for Joe Montana and Steve Young's success as both will tell you. Imagine how hard the transition from Montana to Young would be without Rice. In a very very close one Jerry Rice is my number one San Francisco 49er of all time.
Be sure to check out The Buzz for all your sports, wrestling and entertainment needs as well as some great live shows and podcasts.