The Kansas City Chiefs are fresh off their second consecutive Super Bowl appearance even though they did lose, they have a bright future specifically because of the above Patrick Mahomes. Don't get me wrong, having a great group of weapons to throw to, a good defense and a future Hall of Fame coach in Andy Reid all do help as well. Past and present the Kansas City Chiefs have had great players and I am going to give you my top 5 greatest of all-time. Comment at the bottom of this page and let me know what you think of my list and as always I will respond to any comments or questions. Let's get to the list.
Honorable Mentions
Patrick Mahomes, Quarterback (2017-Present)
Even though I am one of the few people that don't bow at this guy's feet and I also feel the Chiefs field a damn good team around him and that if he would have ended up with another team (the Bears for example) that he wouldn't be having this much success. But even so I can't overlook the impressive start to his career. Mahomes is the fastest player to reach 10,000 career passing yards (34 games), reach 100 career touchdowns (40 games). He also is the has the highest career quarterback rating of 1,500 minimum attempts (110.7) and career passing yards per game of 1,500 minimum attempts (307.6). He's made 2 Super Bowls winning 1, been to 3 AFC Championship games and won an NFL MVP. The guy will no doubt if he stays on this path be at the top of this list by the time his career is over.
Bobby Bell, Outside Linebacker, (1963-73)
Bobby Bell was the definition of the word tough starting in every game over his 12 seasons in Kansas City. Bell made it to six AFL All-Star teams and 3 NFL Pro Bowls. He accounted for 40 sacks despite playing coverage more than he blitzed, while doing so he grabbed 26 interceptions which made him one of the few players in NFL history with 20 sacks and 20 interceptions in his career. Bell's number 78 is retired by Kansas City and he is enshrined in the Pro Football Hall of Fame.
Travis Kelce, Tight End, (2013-Present)
Kelce, like his quarterback Patrick Mahomes, will be much higher on this list once his career is done. He is a six-time Pro Bowler and a three-time first-team All-Pro selection. He holds the NFL record for most consecutive seasons with 1,000 yards receiving by a tight end (5), and the record for most receiving yards by a tight end in a single season (1,416) which he just set the record for this past season. With Mahomes throwing him the ball it's going to be fun to watch and see how many more records he can shatter before his career is over.
5.) Buck Buchanan, Defensive Line, (1963–75)
Buck Buchanan might not have had the sexiest stats but their is no arguing that he was a force on the football field. Buchanan was the first black player to be drafted number one overall in professional football and he proved his value by becoming one of the most intimidating defensive linemen to ever play the game. He used his speed to force the quarterback to throw the ball quickly and even when he did he had a knack for batting the ball down with 16 career batted balls. Buck's number was retired by the Chiefs after 6 All-Star games and two Pro Bowls. These accomplishments led him to being inducted in the Hall of Fame in 1990.
4.) Len Dawson, Quarterback, (1963-1975)
Until Patrick Mahomes gets a few more years under his belt and starts destroying all of Len Dawson's records, Dawson is still at this point in time the best quarterback in Kansas City Chiefs history. Dawson led the Chiefs to their first Super Bowl victory in 1969 and while his stats would not be too impressive in the pass happy league we live in now but he was one of the premier quarterbacks in the AFL. He was named AFL All-Star six times, a Pro Bowler and won the AFL MVP in 1962. Dawson's number 16 is retired by the Kansas City Chiefs and has been enshrined in the Hall of Fame.
3.) Will Shields, Guard, (1993-2006)
Willie Shields is considered one of the best offensive lineman in NFL history and was the model of consistency having played every game in his 14 year career. That's absolutely insane especially now days where you rarely see that level of consistency due to mainly because most players are over the top divas now days and sit games if they have a tight hamstring. Shields holds the team record for most Pro Bowls with 12, selected as a member of the 2000s All-Decade team and elected to the Pro Football Hall of Fame in 2015.
2.) Derrick Thomas, Outside Linebacker, (1989-99)
Derrick Thomas was an absolute force at the linebacker position. After being taken fourth overall in the 1989 NFL Draft, Thomas became the leader of the Chiefs defense which was dominant in the 90s. Thomas owns team records for sacks, safeties, fumble recoveries, and forced fumbles. He also also the record for most sacks recorded in a game in franchise history. Thomas is one of the only 22 players with more than 100 sacks which put him into the Hall of Fame. Thomas was a close number two but another Chiefs legend was my pick for the one spot.
1.) Tony Gonzalez, Tight End, (1997-2008)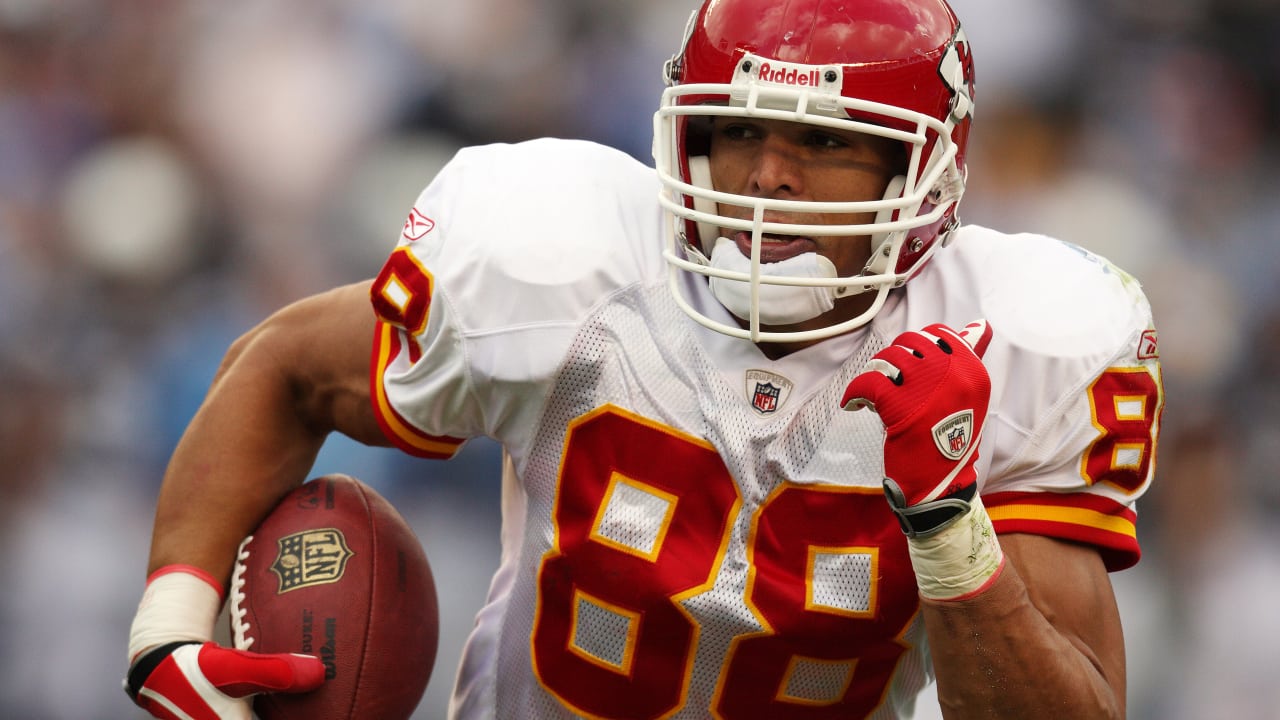 Tony Gonzalez to me is the greatest tight end in the history of the NFL. Gonzalez still holds the record for most receiving yards by a tight end, a record that current Chiefs tight end Travis Kelce could possibly break in the future. He made ten consecutive Pro Bowls and had the franchise record in receptions, receiving yards, receiving touchdowns and yards from scrimmage. Gonzalez is one of the greatest players in NFL history.
Be sure to check out The Buzz for all your sports, wrestling and entertainment needs as well as some great live shows and podcasts.