The New York "Football" Giants are next in my top 5 greatest series. I'll be honest with you all this list, outside of my number one player, this was a difficult list to put together. You will see right away when you look at the honorable mentions, your going to be like, um what is this guy thinking? So please leave me your thoughts on who you would have in your top 5 at the bottom of the page in the comments. This was by far the hardest list to do and I'd love your feedback. Well, enough talk about my list, lets get to it.
Honorable Mentions
Eli Manning, Quarterback (2004-2020)
Can't spell elite without Eli right? Let's not get carried away. The guy was a turnover machine and the literal example of inconsistency but he did win 2 Super Bowls and that reason alone is why he even makes my honorable mentions on this list. Manning was named MVP of both Super Bowls he won which makes him one of five players in NFL history to have won the award multiple times. He was the starting quarterback for 15 years and holds franchise records for most passing yards, touchdown passes, and passes completed.
Harry Carson, Linebacker (1976-88)
Carson is rated the number 1 inside linebacker in NFL history by Pro Football Weekly and many experts agree with that. He was names to the All-Rookie Team after his first season then ended up making the All-NFL Team 7 times, the All-NFC Team 8 times and NFC Linebacker of the Year twice. Something about these linebackers in New York right? I have a feeling we might see another one on this list later, what do you all say?
Roosevelt Brown, Offensive Tackle (1953-1965)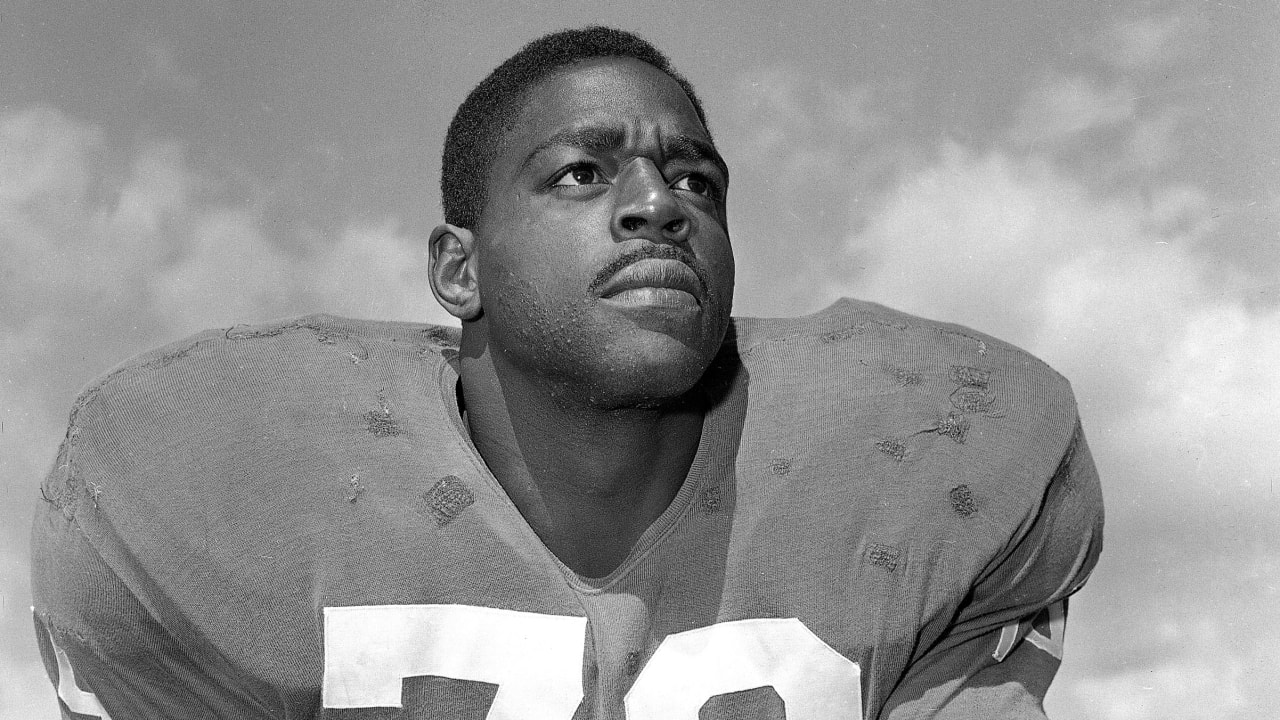 Roosevelt Brown was a TWENTY SEVENTH ROUND PICK! Think about that, WOW. What a steal he ended up being for the New York Giants. He was the starting left tackle from day one and held down that position for 13 years, starting 159 games while collecting first-team All-Pro honors 6 times, 9 Pro Bowls and an NFL Championship in 1956. Legendary running back Frank Gifford said if it wasn't for Brown he wouldn't be in the Hall of Fame. But don't worry Brown was put in the Pro Football Hall of Fame in 1975.
5.) Phil Simms, Quarterback (1979-1993)
Phil Simms had an excellent 15-year career with the New York Giants and to me he is still the best quarterback in Giants history. Simms won the MVP on that Super Bowl throwing for 268 yards and three touchdowns. In Simms career with the Giants he threw for 33,462 yards and 199 touchdowns in his career. He went to the Pro Bowl twice as well during his storied career. Yeah I have Simms over Eli, deal with it.
4.) Mel Hein, Center/Linebacker (1931-45)
The 1930s, great times right? I was negative 60 years old at that time but Mel Hein's great career was just getting started. Hein spent 15 years excelling for the Giants on both sides of the football playing both center and linebacker. He earned All-Pro recognition five times and won 2 championships. Mel was also elected into the inaugural class of the Hall of Fame in 1963.
3.) Frank Gifford, Running Back, Wide Receiver, Defensive Back (1952-60, 1962-64)
Frank Gifford was arguably the most celebrated athlete in America in his time. He was a full-time, two way player who started at both running back and cornerback and could even go over the quarterback if the team needed him to. Gifford ran for 3,609 rushing yards and 34 touchdowns, also catching 367 passes for 5,434 yards. After his final retirement, Gifford held the franchise's receiving yards record for 39 years until Amani Toomer surpassed the mark in 2003. Gifford also had 8 Pro Bowl selections, 4 All-Pro selections and the 1956 league MVP. Gifford was the jack of all trades which is why he ranks so high on my list. Versatility is a huge asset in a player no matter what era they play in.
2.) Michael Strahan, Defensive End (1993-2007)
Michael Strahan was an absolute nightmare for quarterbacks in his 15 years with the New York Giants. He was a core part of the defense and one of the BIG reasons why they won the Super Bowl in 2008. Strahan is also the all time single-season sack leader in NFL history, while leading the league in sacks for 2 times and winning Defensive Player of the Year in 2001. Strahan retired with 141.5 career sacks (fifth all-time when he retired), 854 career tackles, four career interceptions, 24 forced fumbles and three career touchdowns in 200 games and was also named to the Pro Bowl roster seven times.
1.) Lawrence Taylor, Linebacker (1981-93)
Picking Lawrence Taylor as my number one New York Giant of all time was easy as riding a bike. LT is the first name that comes to your mind when you begin to talk about all time greats in general, not just all time great New York Giants. He was the catalyst of a defense that led the Giants to their two Super Bowls in the 80s and early 90s. Taylor ended his career with 10 Pro Bowls, won 3 Defensive Player of the Year Awards, was an 8 time first team All-Pro, he's the NFL sacks leader and won NFL MVP becoming the first defensive player to do so since 1971. Did I forget to mention he is a two time Super Bowl champion and was inducted into the Hall of Fame as well? Yeah, Lawrence Taylor was the best linebacker to ever put on a jersey in the history of the NFL and easily the best New York Giant.
Be sure to check out The Buzz for all your sports, wrestling and entertainment needs as well as some great podcasts and live shows.