Today I am giving you the top 5 greatest players of another team moved from their home to the bright lights of Los Angeles, the St Louis/LA Rams. The Rams when I was in elementary school had the "Greatest Show on Turf" and ended up losing to my Patriots in the Super Bowl in 2001. Just a short story that warms my heart, no so much Rams fans though. Many amazing players have played for this storied franchise and I'm eager to see how newly acquired quarterback Matthew Stafford fares in his first year with the team this year. Let's go from speculation to something we know, and what we know is the Rams have had many great players and I'm going to give you my top 5 greatest ever. Let's get to it.
Honorable Mentions
Kurt Warner, Quarterback (1998-2003)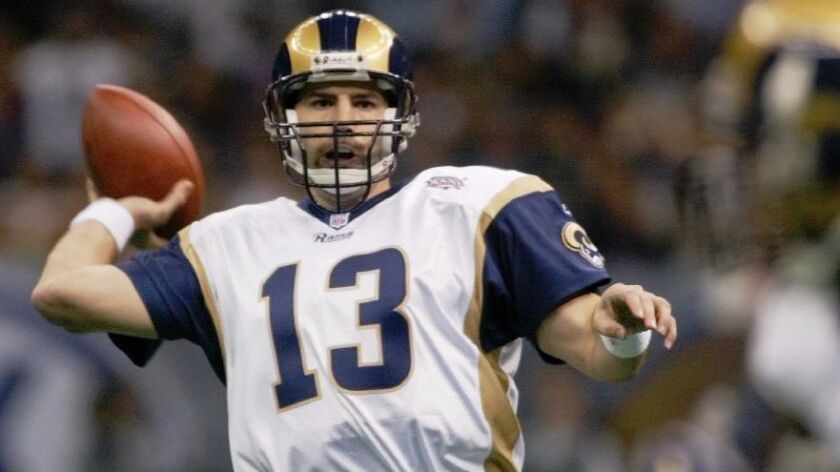 Kurt Warner would have been higher on this list if his tenure on the Rams wasn't so brief, but even so he made a huge impact. He helped lead the Rams to two Super Bowls winning won of them, and topping the NFL in completion percentage three times and passing yards once. Warner also led the NFL in touchdown passes with 41 in 1999 and 36 in 2001. He finished his career fifth in Rams history in passing yards, touchdowns and fourth in completions. Warner's 97.2 passer rating is the highest by any Rams quarterback as well.
Marshall Faulk, Running Back (1999-2005)
Marshall Fault was an absolute game-changer at the running back spot. Only having played seven years in St Louis, Faulk made a huge impact on and off the field for this organization. He made four Pro Bowls and was a three time All-Pro while being just one of the two players in NFL history with 1,000 yards rushing and receiving in the same season. He ranks third in franchise history with 6,959 yards and first in touchdowns with 58.
Eric Dickerson, Running Back (1983-1987)
If he hadn't been traded by the Rams he would have been higher on my list. He was very productive in his time with the Rams winning Rookie of the Year, Offensive Player of the Year and made four All-Pro teams while leading the league in rushing 3 of out his 4 years with the team. Not many players made this kind of impact on team in a short amount of time like Dickerson did.
5.) Orlando Pace, Offensive Tackle (1997-2008)
Orlando Pace was an absolute monster at the left tackle spot. He protected the blindside for the years for a over a decade and was crucial during the Ram's run as the "Greatest Show on Turf" keeping quarterback Kurt Warner upright. Pace was named an All-Pro in 1999, 2000, 2001, 2003 and 2004 and was selected to seven straight Pro Bowls. In a league where protecting the quarterback is so key there have been few better to do it than Orlando Pace.
4.) Jack Youngblood, Defensive End (1971-1984)
Making his way to help the Rams win the Super Bowl in 1979, on a broken leg mind you, Youngblood's name is huge in the Rams fanbase. With sack totals not being a stat when he played their really is no other way to say it but to say he was a machine at getting to quarterback. I wish we had a way of seeing how many sacks he would have had. He played in seven straight Pro Bowl, 5 NFC Championship games and of course the aforementioned Super Bowl. Youngblood was inducted into the Pro Football Hall of Fame in 2001 and will go down as one of the best Rams defensive lineman in history which leads me to my next guy…
3.) Merlin Olsen, Defensive Tackle (1962-1976)
The margin between 3 on this list and 1 was actually pretty thin as Olsen has a strong case for the number one spot. He played for the Rams for 15 years and holds the team record with 14 Pro Bowl selections. FOURTEEN! Playing on the same line as Deacon Jones they were one of the most feared lines to play against. He owns the Ram's records for most games played, most consecutive games played and tied for first with most years played. He was also the 1974 MVP, a member of the 1960 and 1970s All-Decade Team and a member of the 75th Anniversary All-Time team. Olsen was a force and him being ranked 3rd isn't a slight to him as he is behind two other very talented defensive lineman.
2.) Aaron Donald, Defensive Tackle (2014-Present)
I was very tempted to put Aaron Donald at number one on this list I won't even lie. But out of respect I kept him at number 2 even though he will be number one on this list by the end of his career. Donald is the most dominant player in the NFL and to me he is the best player in the NFL. He is a 7 time Pro Bowl selection, 6 time first-team All-Pro, 5 time PFF Defensive Player of the Year and 3 time Associated Press NFL Defensive Player of the Year. He has many great years ahead of him it seems and there is a chance that by the time it's all said and done Donald will go down as the best defensive lineman in NFL history.
1.) Deacon Jones, Defensive End (1961-1971)
Deacon Jones was durable, consistent and as dominant as they come. Jones earned more All-Pro selections with five, than he had games missed in which he only missed 3. That is absolutely mind blowing to me. Jones is also credited with inventing the phrase "sacking the quarterback" although it wasn't an official stat during his playing days. The 8 time Pro Bowler ended up getting inducted into the Hall of Fame and he is my pick for the greatest Ram of all-time. Imagine what Jones stat numbers would have been had it been an actual stat. It would be one that honestly might never be caught.
Be sure to follow The Buzz for all your sports, wrestling and entertainment needs and check out our great live shows and podcasts as well.