The next team in my "Top 5 Greatest Players" series is the Buffalo Bills. Buffalo has a very storied history that even though doesn't come with much postseason success but does come with some great players. Upon doing some research and watching film on these guys I never realized just how many great players they had and all for different reasons. Being a Patriots fan I can't say this was the most enjoyable list to put together because I can't stand Buffalo but I did it anyways. So, lets go ahead and get it over with shall we? Here are my top 5 greatest Buffalo Bills of all time.
Honorable Mentions
Joe DeLamielleure, Guard (1973-1979)
Joe DeLamielleure was a focal point of the "Electric Company"—a nickname given to the Bills' offensive line in the early 1970s. After being drafted in the first round of the 1973 NFL draft after a great college career at Michigan State where he was an All-American. In his first year with Buffalo, running back O.J. Simpson rushed for 2,003 yards making him the only player to rush for over 2,000 yards in a 14-game season. DeLamielleure was put in the Pro Football Hall of Fame in 2003 after starting 105 games for the Bills in seven seasons. He was a six time Pro Bowler and All-Pro and was also named to the 1970s All-Decade team.
Steve Tasker, Wide Receiver/Special Teamer (1986-1997)
Steve Tasker is considered to be one of the best special teams player to ever step foot on a football field. He changed the game and put an emphasis on special teams play. One thing that I consider when putting these lists together is versatility and impact on the game as a whole. As a receiver, he caught just 51 passes for 779 yards in his career, but his impact went far beyond the stat sheet. Tasker was drafted in the ninth round of the 1985 NFL draft by the Houston Oilers and after playing just nine games with the Oilers, he was signed by the Bills off waivers in November of 1986. He went on to earn seven Pro Bowl appearances and was the only special teams player to ever win the MVP of the Pro Bowl—a feat he accomplished in 1993. Steve was also a five time All-Pro and redefined the gunner position.
Jack Kemp, Quarterback (1962-1969)
Jack Kemp has one hell of a career. Even though he may be more well-known for his contributions as an American politician, he was also a great quarterback for the Buffalo Bills in the 1960s. A 17th-round draft pick of Detroit Lions in 1957, Kemp went on to be a co-founder of the AFL Players Association. A 17th round pick, thank god drafts aren't that long anymore. Kemp was the only quarterback listed as a starter for the entire 10-year existence of the AFL, and the 1965 Most Valuable Player led the Bills to a 43-31-3 record in his seven years with the team. In those seven seasons, Kemp completed just 46.4 percent of his passes for 15,134 yards, throwing 77 touchdowns to 132 interceptions. Isn't it crazy how things have changed but back in those days but the fact Kemp won 2 championships made him an all time great back in those days. Different times ladies and gentleman, different times.
5.) Thurman Thomas, Running Back (1988-1999)
Thurman Thomas spent 12 years with the Bills, gaining 11,938 yards and scoring 80 touchdowns averaging 4.2 yards per carry. He added another 4,341 yards on 456 receptions and 22 touchdowns through the air. Thomas is also one of six running backs in NFL history to score 60 rushing touchdowns and 20 receiving touchdowns. He is also the only player to lead the NFL in yards from scrimmage in four consecutive seasons. Thomas was named to the Pro Football Hall of Fame in 2007, a five-time Pro Bowler, a three-time All-Pro and was the 1991 MVP. Not to bad for a guy who fell to the second round of the 1988 NFL Draft due to a knee injury that scared a lot of teams off. Buffalo took the gamble and boy did it pay off.
4.) O.J. Simpson, Running Back (1969-1977)
So where do we start with O.J. Simpson. Well lets start with the fact Simpson was a four-time rushing champion and was named to six Pro Bowls. He was a five-time All-Pro, was the 1973 Most Valuable Player and was the AP Athlete of the Year in 1973. After being taken with the first pick of the 1969 NFL draft and going onto become one of the best backs in NFL history, Simpson did have his share of controversy off the field. In nine seasons with the Bills, Simpson averaged 4.8 yards per carry, gaining 10,183 yards, scoring 57 touchdowns and averaging 90.9 rush yards per game. He also was the first player to rush for over 2,000 yards in a season and remains the only player to ever accomplish that in a 14-game season.
3.) WR Andre Reed, Wide Receiver (1985-1999)
Andre Reed was Jim Kelly's favorite target during his 15 year tenure with the Buffalo Bills. He was the top receiver on the Bills during their Super Bowl years, catching 941 passes for 13,905 yards and 86 touchdowns. Reed was a seven-time Pro Bowler, was named to two All-Pro teams and ranks 12th all time in career receiving yards. It's crazy to me that Reed still isn't in the Pro Football Hall of Fame as he has been a finalist for the honor multiple times. I hope Reed gets his due and gets in because he deserves it.
2.) Jim Kelly, Quarterback (1986-1996)
Jim Kelly was the third quarterback taken in the 1983 NFL draft. The '83 quarterback class has gone on to be known as the best in the history of the NFL draft and Kelly is the best of that class. Kelly didn't want to play in Buffalo after originally being selected by the Bills so he opted to play two seasons with the Houston Gamblers of the USFL. He was fantastic in Houston, throwing for 9,892 yards and 83 touchdowns before joining the Bills in 1986. He had a 101-59 regular season record with Buffalo and took the team to the Super Bowl four years in a row. Completing 60.1 percent of his passes for 35,467 yards and 237 touchdowns in his great career Kelly also had 22 fourth-quarter comebacks. Operating out of the famous "K-Gun" offense in the early 90s it featured what is used a lot now in up tempo, no-huddle, hurry-up offense that was designed to wear out the defense. Kelly was one of a kind and just throw in the fact he was a five-time Pro Bowler and was All-Pro three times.
1.) Bruce Smith, Defensive Lineman (1985-1999)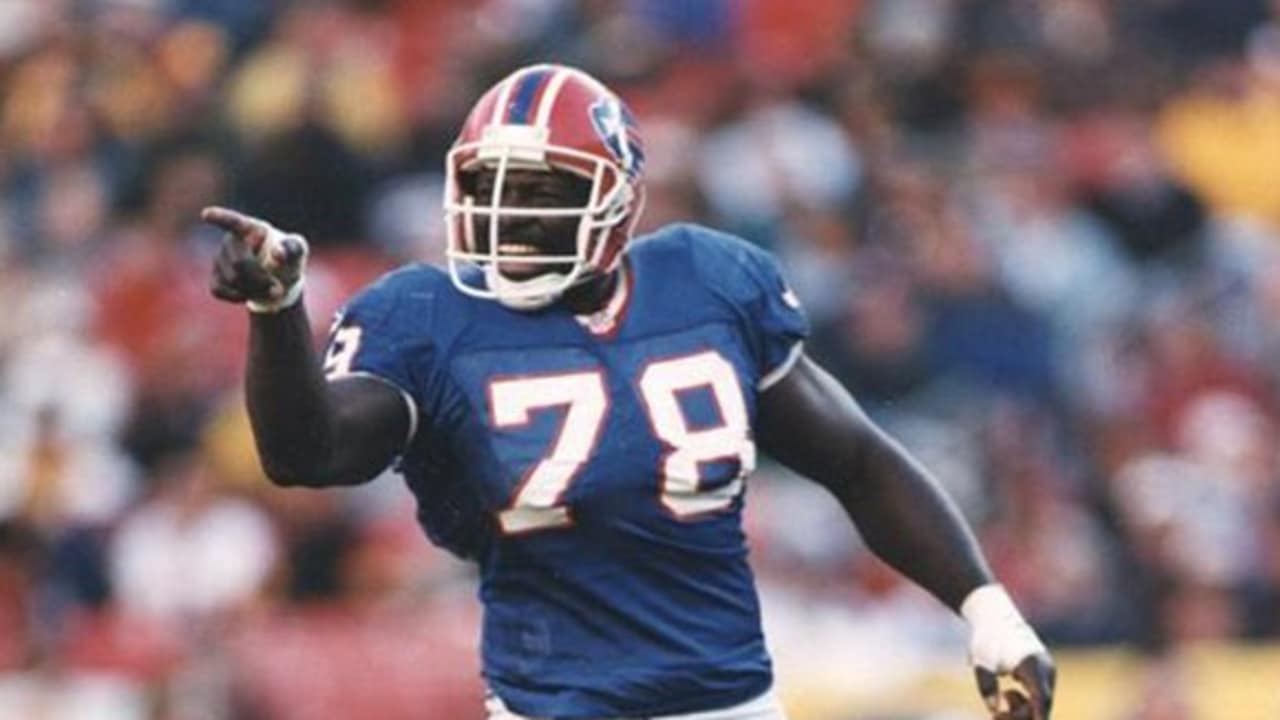 Bruce Smith is one of the best defensive players not only for the Buffalo Bills franchise, but in the history of the NFL. In 15 years with the Bills, Smith recorded 941 tackles, 171 sacks, and 35 forced fumbles. He recorded at least 10 sacks in 12 of the 15 years he spent with the team. What's crazy is that Smith made his impact mostly from the defensive end position in a three-man front and when playing in that defensive scheme defensive lineman were generally required to only eat up blockers that allowed the linebackers to make plays. Smith was named to 14 Pro Bowls, an 11-time All-Pro, two time Defensive Player of the Year and finished his storied career with 200 sacks. What a career for one of the best defensive lineman of all time and in my opinion the greatest Buffalo Bill of all time.
Be sure to check out The Buzz for all my other top 5 articles and tons of other great content from some amazing writers.