Fans were stunned to see Carlito being one of this year's entrants into the 2021 WWE Royal Rumble, he has not wrestled with the company since 2010. Carlito made his surprising return after a long ten-year absence when last worked for McMahon. The longtime wrestler was recently a guest on WWE's After The Bell with Corey Graves. Carlito discussed why he was asking for his release from WWE back in 2010. He also opened up about a moment that helped him get back to a place where he has regained both health and control of his life.
"It was great, it felt like a heavy weight was lifted off my shoulders," Carlito stated. "I was my own boss, I could do my own thing. I didn't have to be anywhere I didn't want to be, I didn't have to work for any promotion that I didn't want to" and Carlito mentioned how he could eat the right way, "it all goes back to doing the right training regiment and also time was so important" all big factors in allowing him to clear his head of stuff.
"I came back because I just didn't like the way things ended. I didn't expect it to take 10 years to get back but at least if I came back once, I just wanted to leave a better taste in someone's mouth." Burying the hatchet with WWE had been a big deal for him to do. Carlito further said, "everything is on the up and up," He talked about being happy to be back and happy to be around. "If that was my last time, I was glad to finally get a chance to return and to end things on better terms."
Carlito enjoyed much success during his first WWE run in the early 2000's. It was during this era where he established himself as a bonafide star in the WWE by beating John Cena for the United States Championship in his debut match.
But that success did not come without issues.
Carlito had asked for his release on several different occasions. Carlito explained that he is in a much better place currently and WWE releasing him in 2010 was actually a blessing because Carlito felt it helped fixed things for him not only professionally but personally as well.
Carlito said, "I'm more mature now, I'm very zen. I don't carry that chip on my shoulder anymore. I don't hold anger at anyone, there's no hate towards anyone. Believe me, I have nobody I want to spit an apple in their face, unless I get paid for it. I just remember being angry at the world, not being able to pinpoint where all this anger was coming from."
"It was something I had to work through. Getting released from WWE was probably one of the best things that happened to me at that time because I really needed it." Carlito asked for his release three times and still never got it. He felt like a prisoner, and to be fair that wasn't just in WWE, but really Carlito was facing some hard struggles and he needed to find a way to work those problems out. "That's why having time away is so crucial, I didn't know if I needed 10 years but some time away did help."
What is Carlito's future with WWE? We've heard it's expected that he gets a three-week trial run basis as of right now. He himself even said he's not sure of what's going to happen next however if this return is indeed it for Carlito, he'd be satisfied with that.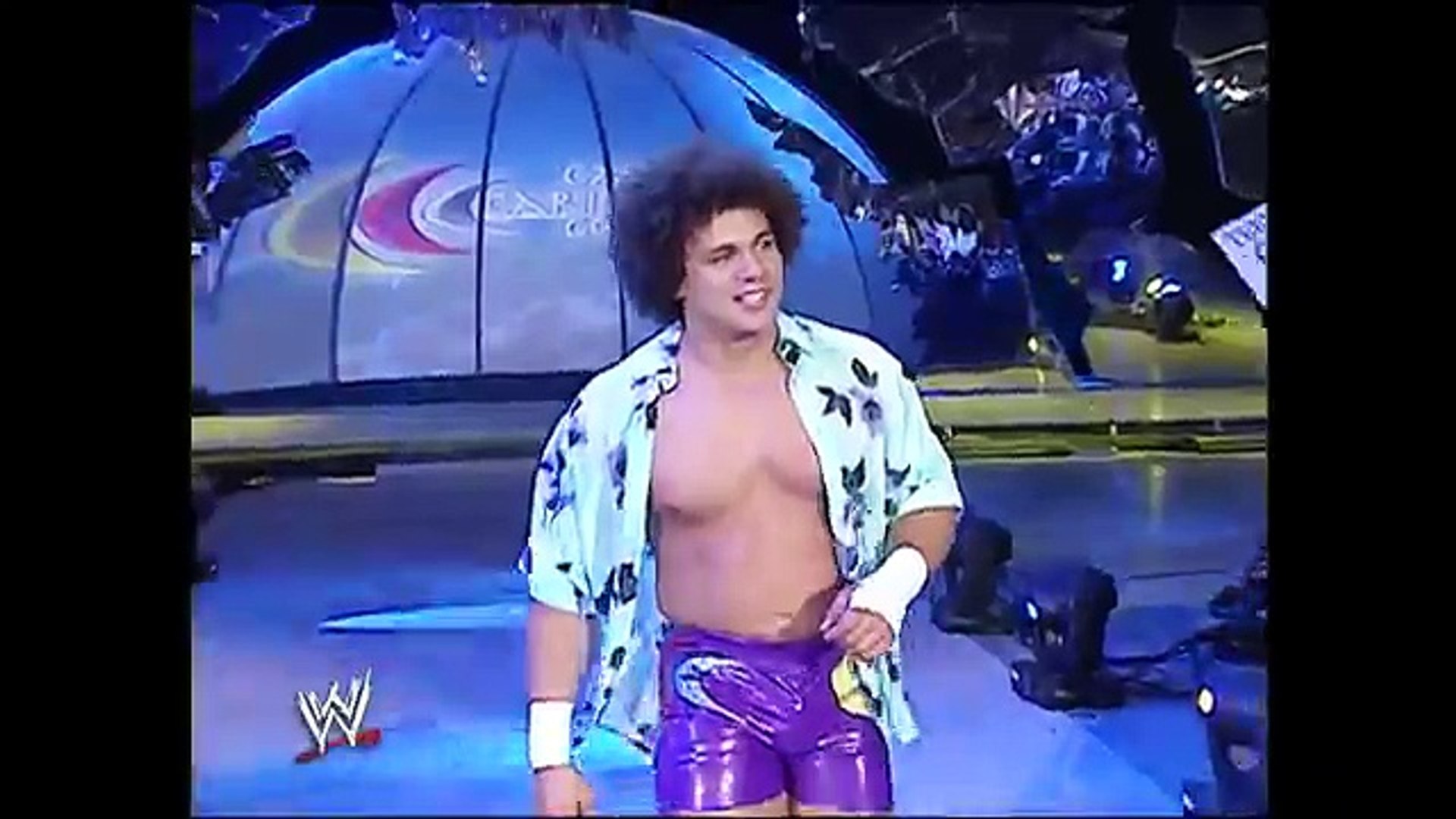 "As of now I don't know, we'll see what the future holds," Carlito admitted. "I don't know, if the conditions are right I'd love to be back. That was always my goal, was to go away, take a breather and then return. I was humbled by the response from everyone. Not only from the Rumble but even Legends Night when I didn't show up. All the messages and all the positivity, I was a little disappointed in Twitter cause there were no negative messages. I just thanked them for still remembering me and enjoying when I came out there. If it's the end, I'm actually in a good place and I'm happy with it."
We want to credit WWE's After The Bell Podcast with Corey Graves for quotes that were used in this article.