This Sunday's NFC Championship match will be a familiar match up with two teams that have seen each other twice this season. The Tampa Bay Buccaneers will travel to New Orleans to take on the Saints once again. This one is for all the marbles and maybe even the History channel replay. Last week it was Nickelodeon, so why not the History Channel this week? The two future Hall of Famers have never played before in the NFL postseason because they have been in two different conferences their whole career. Brees and Brady will have a combined 85 years on the planet and two decades of football on Sunday. How could both players not haved laughed at Father Time and their matchup this weekend.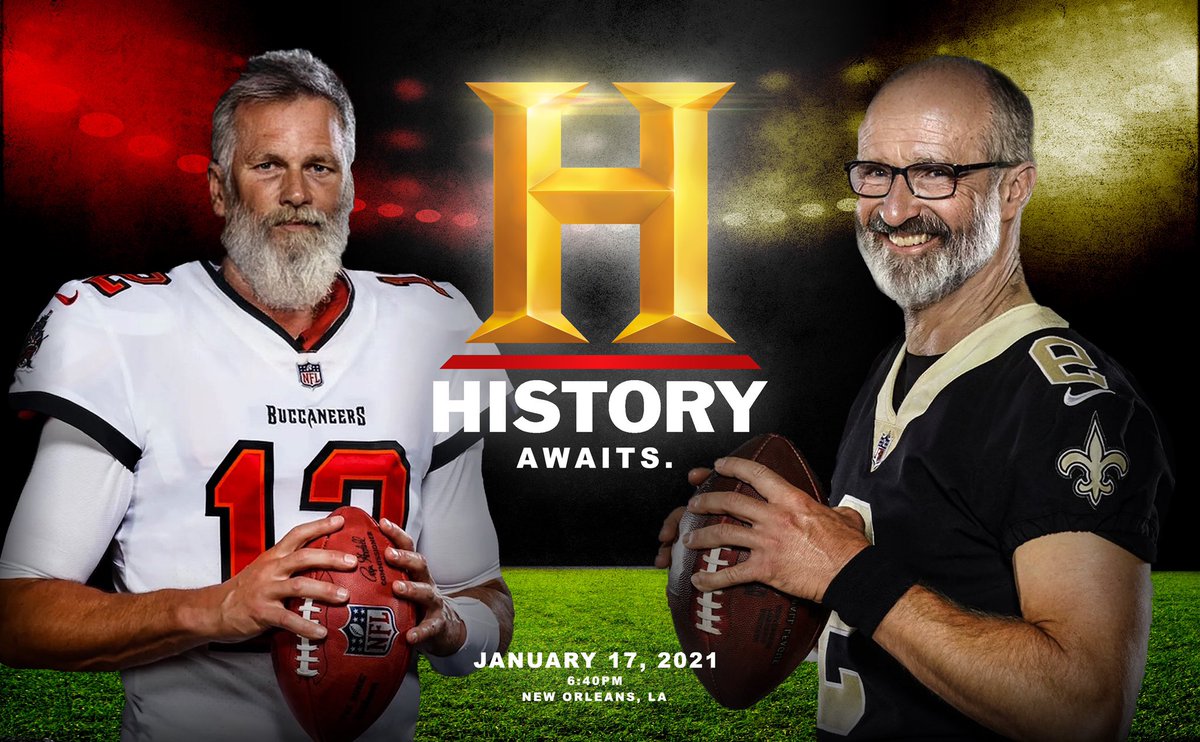 The Buccs' quarterback Tom Brady had never been beaten twice by the same team in a single season before the Saints did it but he has also never been beaten three times. Will Drew Brees and the Saints pull off the win? Or will Tom Brady once again walk away with a Championship?
This game is really going to come down to one-on-one battles of guys who know each other. Tom Brady maybe the better quarterback but the Saints are the better team. The difference since their last match up in Week nine is that Brady and the Buccs' offense have found their rhythm. The Buccs have averaged 347.0 yards per game since Week 10 and finished the season with the 3rd best scoring offense in the league.
The Buccs defense can not play the same game as they did last week against Washington. They have to successfully put pressure on Brees and force him into making too many mistakes. Drew Brees and Alvin Kamara are going to do whatever it takes to win this game. Kamara can make anyone look bad, and he is a tough matchup for Buccs' lineman Devin White specifically.
It will be vital for the Saints defense to take away any of the rushing game the Buccs have left and force Brady to step up in the face of their pass rush. Mike Evens is playing some of the best football of his career. Maybe he is just inspired by his first trip to the playoffs in seven years. While the Saints have CB Marshon Lattimore so it's going to be a heated battle between Lattimore and Evans.
The guy that scares the Buccs' head coach the most is WR Deonte Harris. He's really, really fast and when he is in there it's a different ballgame. He can turn a quick pass into a big gain. Buccs' CB Murphy-Bunting will have his work cut out for him with Harris. Murphy-Bunting has played well of late and has made a few critical turnovers.
Just one of the Saints key players has been ruled out to play Sunday, CB Patrick Robinson. Though three of them are questionable including QB Taysom Hill and RB Latavius Murray. Although they all play important roles in the New Orleans offense, they can win without them.
Tampa will be counting on Leonard Fournette to step up and take the pressure off of Brady. Brady needs a clean pocket. He just doesn't do well under pressure. Poor Father Time, lol.
The Saints announced they will be pairing their black home jerseys with matching black trousers, aka dressed for a funeral. Tampa Bay is going to give them just that, the death of Brees and his last go at the playoffs. It's going to be a close game but I am going to go with Tom Brady in a deep pass to Mike Evens for the winning touchdown.