On January 23rd, we see the anticipated rematch between Dustin Poirier vs Conor McGregor, the first fight of course went to Conor but the second fight will see them in completely different stages of their careers and improved versions of themselves. Both men have a list of fantastic wins and here I am going to look at the fights that best display the high level of skill both men possess. The list is my own subjective view and some placements will be debatable but I will do my best to justify my reasoning for each entry. 
This time around we are looking at the best performances in a career full of historical nights and one of the most controversial MMA journeys witnessed. Love him or hate him Conor McGregor has on multiple occasions put in spectacular performances and proven himself to so many people along the way. Many of these performances did so much for MMA on a wider scope in regards to gaining more traction to the sport but none of that matters here. Like the previous article, I will look at the quality of the performances inside the octagon. 
Honourable Mention- Donald Cerrone
I was in two minds about whether to include this fight or not as a couple of outside factors do taint the performance ever so slightly. We all knew Conor was going to put a quick end to this fight not only because Cowboy was coming off of a first round KO to Justin Gaethje but style wise Cowboy as an incredibly slow starter is tailor-made for arguably the best 1st round fighter in MMA. Making things worse, Cowboy has gone on to receive another loss and a draw many agree he truly lost if not for a point deduction. There are other wins which are both better fighters and more impressive but I simply can't ignore the fact of how destructive Conor looked in this fight and how easily he finished Cowboy without taking a single punch in the fight. Conor did something rarely seen which is breaking his opponent's nose by using his shoulder, an act of genius violence I would say. Overall Cowboy would seemingly have the advantage in the clinch but here this was not the case at all and the cherry on top is that Conor managed to drop Cowboy by using his opponents own trademark head kick. This fight was an exercise in pure dominance as Conor knew exactly what to do in each moment of the fight and simply executed a truly flawless performance to which even some of the issues people had with the fight, no one cannot take anything away from the way Conor performed. 
Number 5- Max Holloway
I wanted to be sure to include at least one pre-Chad Mendes era fight on this list and again I could have included some of his more vicious KO wins such as the first Poirier fight but instead I went for a performance that showed Conor dominate for 3 rounds – all while battling a serious injury which for many other fighters could have been their downfall. After dominating the first round with his striking, Conor felt a snap in his knee midway through the second round, an injury which later would be revealed to be a complete tear of Conor's ACL. Conor continued to dominate the rest of the second round on his feet and in the third did something we have never seen before or since which was dominating the third round by utilizing wrestling. Anyone who understands the severity of a torn ACL will appreciate the pure heart it takes to fight with said injury especially as we have seen fighters pull out mid fight for much lesser injuries. Not to mention Conor showcased his often-underrated grappling abilities and in the first two rounds completely outclassed Holloway on the feet. Yes, of course, this is not the Holloway we know today but the same applies to Conor. If anything, this fight shows that in the earlier stages of his career, Conor was simply a level above his fellow prospects and a special talent. 
Number 4- Nate Diaz 2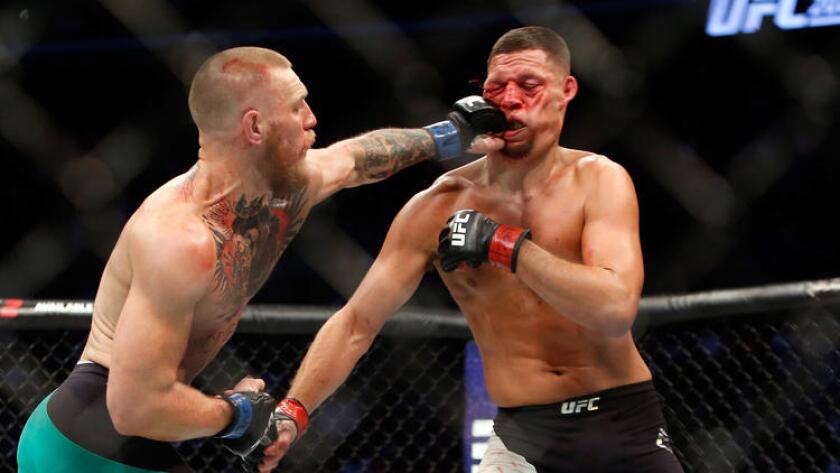 In a number of ways this was arguably one of the most complete performances in the career of the Irishman as he was coming off of a devastating loss and had to go 5 rounds in what became a brutal fight. At times he faced it all while battling through his main weakness, cardio, against a fighter renowned for his cardiac output. This fight saw Conor having to fight at a more measured pace and be smart in order to beat Diaz. Conor knew trying to get him out early was not the answer and instead resorted to utilizing what is famously the main weakness of both Diaz brothers, the leg kicks. For the majority of the first two rounds Conor dominated. Diaz came strong at the end of the second but Conor had already dropped him twice at the beginning of said round. The third saw Diaz take over and go to work on a clearly fatigued Conor and it seemed that the tide was turning in favor of Diaz much in the way the first fight had. The 4th round is arguably the most important round of Conor's career as a second loss to Diaz would have done a lot of damage to his career aspirations, but Conor came out in the fourth seemingly catching a second wind and went back to work. The round was competitive enough but it was clear that Conor had landed the more damaging shots and was pressing most of the action. The fifth round again was back and forth. Conor was possibly landing the harder shots but Diaz had the volume. The deciding factor for many was the takedown landed by Diaz although it came at the last 10 seconds so nothing was done with it. Some have argued the fight as a draw or for Diaz but honestly while the fight was competitive I don't see any argument for anything other than a Conor win with most likely 3 rounds of the 5 but arguably 4-1. This fight again showed the heart of Conor to get through a nightmarish third round, while showing his ability to adapt to his opponents and fight smarter after coming off a devastating loss. 
Number 3- Chad Mendes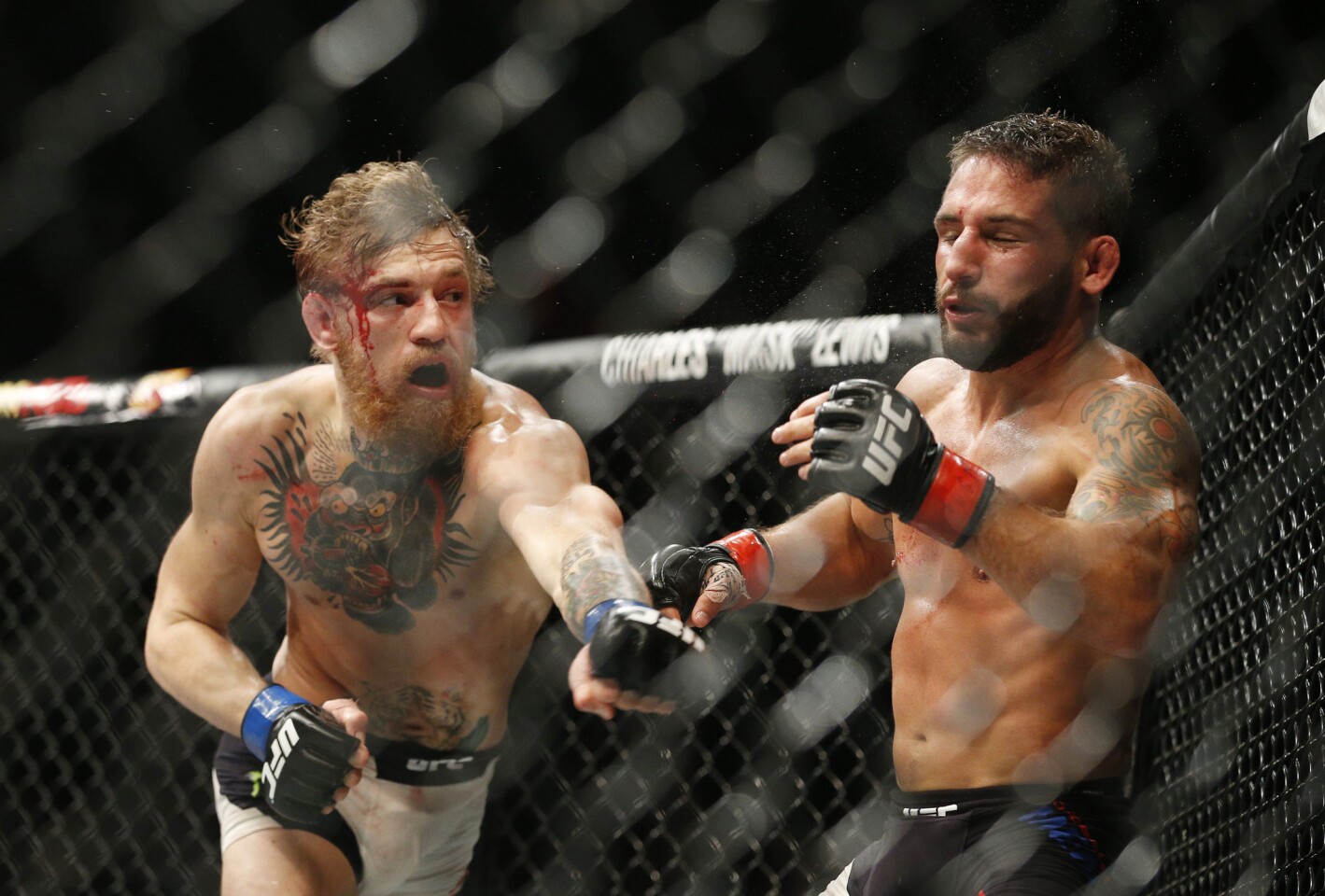 Leading up to this fight the major criticism towards Conor was that all his biggest matchups were against strikers and that once he fought a good wrestler his weaknesses would be exposed. This at the time was a perfectly reasonable assumption, there have been a number of great strikers who have fallen victim to the game of wrestling and it was vital that we eventually saw Conor come up against this to know how well rounded he was. On what was at the time the biggest moment of his career, Conor answered all these questions as from the jump, Mendes was chasing the takedown and managed to land some vicious ground and pound. What instantly jumped out was how effectively Conor was fighting off of his back as opposed to only trying to get up. While Mendes was in control, Conor was also managing to do damage and showed so much composure in a situation he had not yet faced in the octagon. Throughout the fight Conor was downplaying everything Mendes did and talking to him. In the stand-up Conor was his usual dominant and it was clear he was not worried about the wrestling but instead welcomed it. In the second round, Mendes went back to the takedowns and was landing some very solid elbows but seemingly was hesitant to transition to a more dominant position. Eventually he attempted this and tried to lock up a choke however Conor escaped and quickly jumped up to his feet causing Mendes to instantly go back in for a takedown only this time Conor successfully defended the takedown in what was clearly a worrying moment for Mendes. From that moment Conor quickly pressured and unleashed some fantastic combinations against Mendes to put an end to the fight. This fight answered a number of questions about the unknown aspects of Conor's skill set and fully established him as the biggest star in the UFC in what was probably the most uplifting moment in Conor's career. 
Number 2- Jose Aldo
If you have this at number 1 I would not argue and in fact there is a more solid argument for this performance being higher in the list. You really have to remember back to the time of this fight and the 10-year long title reign of Jose Aldo. He was viewed as one of the best pound for pound and by most is still seen as the greatest Featherweight of all time. He was an absolute monster of a champion whose biggest weakness is that from the third round on he begins to fade but often he did enough damage to his opponents to get through the final 2 rounds. None of this mattered against the Irishman. As casual as you like, Conor went out and knocked out the dominant champion in 13 seconds. This was a truly jaw dropping moment in MMA as I do not think anyone other than mystic mac could have predicted this exact outcome. I specifically remember being speechless and upset we didn't get a longer fight. Even if Conor had just quit MMA after this fight it instantly made him a legend in MMA history as we have seen quick knockouts but never against a dominant champion. It was all a culmination of the all-out trash talking assault Conor had waged against Aldo. Conor knew what he was doing and clearly had it all planned from the minute the fight was made. By the time they made the walk to the octagon, Aldo was broken and as a result made a grand mistake that will forever haunt his entire career. Aldo has had some solid wins after this fight and I do believe a number of his loses are attributed to the new breed of MMA fighters simply being more advanced and knowing his style. Yet it can't be denied that to whatever extent that perfectly timed left hand has continued to live with Aldo.
Number 1- Eddie Alvarez
The fight which saw Conor become the first double champion was a pitch perfect performance that from the first moment until the very end saw Conor display the absolute best of his skills against a very tough, high-level opponent. Conor essentially used his physical prowess and frame to completely overwhelm Eddie Alvarez with a high level of calculated pressure which clearly got into the head of his opponent and resorted Eddie Alvarez to looking like a gun-shy amateur. Very similar to the Aldo fight, this loss was so embarrassing for Alvarez that no matter what he does it will follow him for the rest of his career. Conor easily dropped Eddie on a couple of occasions and was effortlessly making his opponent miss, even to the point where he began holding his hands behind his back and presenting his chin to Alvarez. Eddie to his credit was trying and consistently went in for the takedown but Conor was not allowing it and showed the absolute best of his vastly improved takedown defense. The use of feints was absolutely second to none, and the way McGregor would purposely over extend and miss Alvarez in order to make him feel safe so that he could land with the second combination was an absolute masterclass in striking manipulation. It proved that Conor's mind games don't stop inside the octagon and that you have to be mentally strong at all times. This was probably the most dominant of any of the double champion performances and felt like the perfect culmination of Conor's career. He showed all the best parts of his skills and made history all while putting in a masterclass performance in the process.  
The career of Conor McGregor has at times been an odd one especially after UFC 205, but at this point I think we all know this has a lot to do with the amount of money he made from the Floyd Mayweather super fight. Since then he has been fairly inactive which is understandable completely as that initial drive in his UFC run may have faded over the course of time. Hopefully UFC 257 will mark the complete return of the motivated McGregor, since when he's at his best he has the ability to beat just about anyone in a division filled with great match ups. Regardless, the initial UFC run of Conor McGregor was a special time in the sport and it's easy to forget how impactful he was for the organization. He looked absolutely dominant on many occasions and was a unique figure in MMA. Behind all of the trash talk and talk of money Conor was an incredibly focused fighter who had a distinct vision of what he wanted to achieve and his high rate of activity was proof of this. As a fighter, Conor has some of the most revolutionary MMA stand up I have ever seen, a style that many are trying to emulate. He has an excellent mix of power and precision. Conor has always been incredibly smart with his striking and rarely allows himself to waste his shots. His legacy has already been carved out and will always have a place in MMA's history but it doesn't feel finished yet. We have yet to see Conor defend a title which to many is still something of importance and he is now competing in what many consider the best division in the UFC, so perhaps now would be an ideal time to fight the best in Lightweight and further add to an already excellent resume.
That is how it should be in any kind of sport you do not have to like someone but you should at the very least have some respect for the skill set on display and in the case of Conor the time he has put into becoming this good is very evident and I fully expect to see a fully motivated Conor at UFC 257.