The NFL season is near the end and we are coming up on what will be a very eventful off-season. There is going to be a lot of big name quarterbacks available via trade, free agency, and in the upcoming NFL draft. Names such as Carson Wentz, Matthew Stafford, Sam Darnold, Ryan Fitzpatrick, Jacoby Brissett, Cam Newton, Dak Prescott, Jameis Winston, Mitch Trubisky, Matt Ryan, and Jimmy Garoppolo are expected to be available with the exception of Dak as reports are he will be back in Dallas next year.
Coming out of college you will have quarterbacks such as Trevor Lawrence, Justin Fields, Mac Jones, Kyle Trask, Zach Wilson, and Trey Lance available to be drafted as well. Match that with all the teams that will need a quarterback and it will be a very busy and interesting off-season. Teams such as the New England Patriots, Indianapolis Colts, Jacksonville Jaguars, New York Jets, Denver Broncos, Atlanta Falcons, San Francisco 49ers, Chicago Bears, New Orleans Saints, and the Detroit Lions all need a signal caller. I will go through each team and tell you what quarterbacks they should consider and what quarterback they should bring in to have the most success in 2021 and in the future. Let's get to it!
New England Patriots
Quarterbacks they should consider: Carson Wentz, Matthew Stafford, Jacoby Brissett, Jimmy Garoppolo, Mac Jones
Quarterback they should get: Matthew Stafford
Being out of the Trevor Lawrence, Justin Fields, Zac Wilson, and most likely Trey Lance sweepstakes it makes it unlikely the Patriots will draft a quarterback in the first round this upcoming NFL draft. Patriots coach Bill Belichick is in the final few years of his coaching career and he's not going to want to take time to develop a young quarterback as he will be looking to win now. Carson Wentz is someone they would consider but his high contract and injury history makes the fit feel unlikely but not impossible. Jacoby Brissett and Jimmy Garoppolo are both quarterbacks that have played for the Patriots before and know the system. That makes them ideal fits and I expect for New England to look into both. Going back to the draft I do like Mac Jones but feel him sitting a year might benefit him which is why I think he'd be someone New England would consider. I could see Bill getting offensive coordinator Josh McDaniels a young quarterback that he likes to develop for the future. Assuming McDaniels doesn't take another head coaching job he is the future coach of the Patriots once Bill retires. With that being said Detroit Lions quarterback Matthew Stafford makes the most sense here. Stafford still has a lot left in the tank and I feel he has just been in a bad situation with Detroit. If I was New England I make a trade bring him in and then surround him with some help. Teammate in Detroit WR Kenny Golladay is a free agent and the Patriots have a good amount of cap room so bringing him in too would make sense and make the transition easier for Stafford. The Patriots also have a very good offensive line. The opt outs really hurt New England this year and they were forced to lean on a lot of young players and due to the lack of depth on the roster. Bill will retool this roster this off-season and New England will be right back in the thick of it in the AFC if they can land a quarterback like Stafford. The ability to play for a coach like Belichick who has tons of cap room and draft capital going into the off-season and a great offensive coordinator like Josh McDaniels would give Stafford the ability to compete for something he never was going to get a chance to compete for in Detroit: a Super Bowl.
Indianapolis Colts
Quarterbacks they should consider: Jacoby Brissett and Carson Wentz
Quarterback they should get: Carson Wentz
I don't see many logical options here for the Colts assuming that current quarterback Phillip Rivers retires at seasons end. They have Jacoby Brissett who has been with the team for a few years now and rookie Jacob Eason on the roster other than Rivers right now and Brissett is a pending free agent. Eason appears to be a project quarterback at best so the Colts will need to address the position if Rivers retires. There is the one obvious option out there that is already got the rumor mill going and that's for the Colts to trade for now benched and unhappy Philadelphia Eagles quarterback Carson Wentz. Colts coach Frank Reich was the offensive coordinator of the Eagles the year Wentz had his would be MVP season had he not gotten injured later in the year. Wentz has been a product of unlucky injuries of himself and his surrounding talent, bad offensive line play, questionable play calling, and horrible drafting. The Eagles haven't done a great job surrounding Wentz with wide receivers or an offensive line to give him a chance to succeed. The Colts on the other hand have a great offensive line, talent such as RBs Jonathon Taylor and Nyheim Hines as well as wide receivers Zach Pascal and Michael Pittman Jr. It is expected the Colts will keep WR T.Y Hilton who is scheduled to be a free agent this year which would add another good weapon for Wentz. If Wentz is willing (reports are he is) to restructure his bloated salary and cap number to make a trade happen the Colts are the most obvious and logical choice there is. Wentz could revitalize his career in Indy and keep the Colts as a perennial playoff contender in the AFC for years to come.
Jacksonville Jaguars
Quarterbacks they should consider: Trevor Lawrence and Justin Fields
Quarterback they should get: Trevor Lawrence
The Jacksonville Jaguars "Tanked for Trevor" and it worked according to plan. Trevor Lawrence is a can't miss prospect who is expected to declare for the NFL draft within the next few weeks. Lawrence has shown his ability to throw the ball all over the field, limit turnovers, and use his mobility to successfully run the RPO throughout his college career and that will project well into the NFL which is now a lot more dependent on the quarterback having mobility. The only reason Justin Fields is even on this list is due to the reports the the Jaguars once they fire current head coach Doug Marrone will hire former Ohio State head coach Urban Meyer. Meyer obviously is very familiar with Justin Fields. I don't know if the Jaguars brass would allow that to happen but I'm sure it would be discussed before Meyer were to be offered the job. Reports are the Jaguars are going all in with trying to get Meyer so if he preferred Fields I'm sure the Jags front office would oblige. I'm going to assume that Meyer will still take Lawrence with the number one pick regardless of his relationship with Fields. I can guarantee you one of these two quarterbacks will be under center next year for the Jaguars and if they are smart it will be Trevor Lawrence.
New York Jets
Quarterbacks they should consider: Sam Darnold, Zac Wilson, Justin Fields
Quarterback they should get: Keep Sam Darnold
The New York Jets are a walking nightmare. They have little to no talent on the offensive side of the ball to help any quarterback that you put on the team. This is why I don't think taking a quarterback such as Zac Wilson or Justin Fields at number 2 makes any sense. These guys would be doomed upon arrival. Which is why keeping current quarterback Sam Darnold makes the most sense. Take that number 2 pick add an impact offensive lineman, wide receiver, linebacker, or whatever that might be or trade down and accumulate more draft picks. Lord knows the Jets have endless needs. I can't think of one position the Jets have that isn't a need and that's me not even trying to be funny. Frank Gore was probably their most productive player on offense this year and he's 67 years old (kidding, kind of). Darnold has shown the ability to be a good quarterback when given the time and talent around him the problem is the Jets struggle to get him that talent. They need to go into this upcoming draft take the best players available and get Darnold a running back and some pass catchers. Sam Darnold has all the ability in the world to be the guy the Jets just have to give him an opportunity. Tired of being the laughing stock of the league? Well, fix it and start with keeping Sam Darnold.
Denver Broncos
Quarterbacks they should consider: Justin Fields, Ryan Fitzpatrick, Trey Lance, Drew Lock
Quarterbacks they should get: Keep Drew Lock, bring in Ryan Fitzpatrick to back up
The Denver Broncos are kind of like the New York Jets as they have a ton of needs and quarterback might not be their biggest need. Drew Lock has shown, at times, that he can be that guy to lead this team. The fact that Denver was without its best playmaker WR Courtland Sutton this year definitely hurt Lock. With young players such as WR Jerry Juedy, Tim Patrick as well as Sutton and you throw in tight end Noah Fant you have a couple potentially good players. If running back Phillip Lindsay could ever stay healthy you might have a running game that would really help Lock out. Trey Lance is on this list because the Broncos have been linked to showing interest in him but picking him at ten seems a little high. If Justin Fields ends up falling to 10 I think Denver would seriously consider him at that spot. But with other needs they can address at the 10 spot I have a better option. I would sign current Miami Dolphins backup quarterback Ryan Fitzpatrick to back up Drew Lock and potentially push him to the next level. Anyone who has watched Fitzpatrick knows he has a few games where he looks amazing then follows that with a few games that he looks lost. The reasoning of bringing in Fitz would be to have someone to push Lock. Why would Lock be worried when there is no one there that's a realistic threat to his job. Fitz would be a perfect mentor for Lock as well, look at how well he did with helping Tua along with Miami this past year and he played well most of the year. You add him to that quarterback room and it will do nothing but help Lock. If Lock struggles and Denver decides he's not their guy they can have Fitzpatrick fill in and Denver can enter next year pursuing it's next potential franchise quarterback but for now I would give Lock one more year to prove he can be the guy.
Atlanta Falcons
Quarterbacks they should consider: Justin Fields and Zac Wilson
Quarterback they should get: Justin Fields
The Atlanta Falcons are a team that needs to rebuild after an awful 2020 season. Franchise cornerstones QB Matt Ryan and WR Julio Jones are on the decline with huge cap numbers and based on the fact they were both being shopped during the season I expect both to be dealt this upcoming off-season and that opens up a huge hole at the quarterback position. Insert Justin Fields. The Falcons have the fourth pick in the draft and Georgia native Justin Fields it sitting there and the Falcons should jump on it. You have WRs Calvin Ridley and Russell Gage along with tight end Hayden Hurst on the roster plus you can use the draft capital added if you trade Matt Ryan and Julio Jones away and just add more assets to the roster and build it back up. Zac Wilson is on this list just in case that Justin Fields gets taken at two by the Jets or another team jumps up and takes him. I think Wilson will be a better pro quarterback than Fields but the Falcons being about to take a hometown kid, in my opinion, will be too hard for them to resist.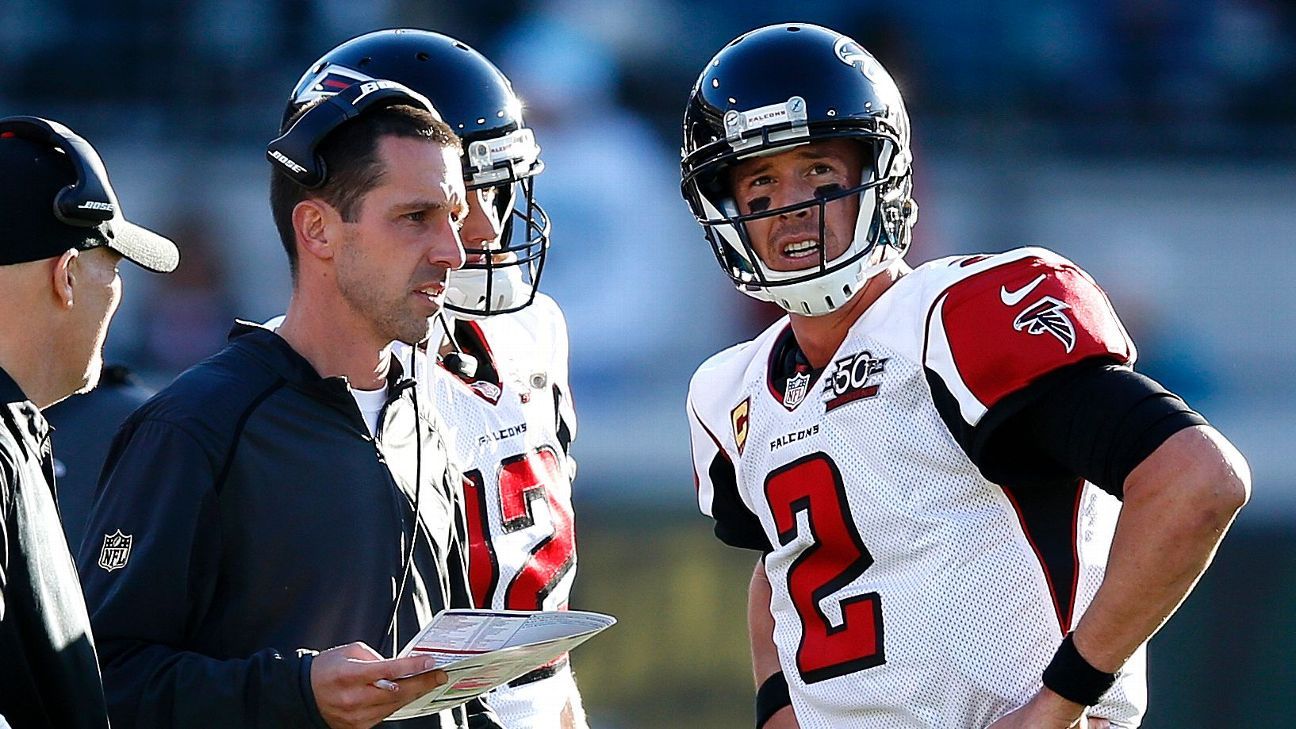 San Francisco 49ers
Quarterbacks they should consider: Jimmy Garoppolo and Matt Ryan
Quarterback they should get: Matt Ryan
The San Francisco 49ers enter an interesting off-season. They can cut bait with current quarterback Jimmy Garoppolo with a limited dead cap hit and use that money to add another quarterback. I just so happen to know of one who won an MVP award under 49ers coach Kyle Shanahan when he was the offensive coordinator as well of having some of his best statistical seasons of his career. The Atlanta Falcons are in a rebuild and they shopped Matt Ryan during the season and the 49ers are the most logical landing spot. The 49ers have money they can use if they decide to just cut ties with Garoppolo they can invest in Ryan. Hell, I would offer the Falcons a first and second round pick for Matt Ryan and Julio Jones. Can you imagine an offense of Ryan, George Kittle, and Julio Jones? Would the Falcons want more in return on that trade? Probably, but I'd be more than willing to throw in another future one to land these two and take this 49ers team back to the top tier of the NFC. Remember the 49ers almost had 100 million dollars of players on the injured reserve this year, when you get them back and bring in a Matt Ryan, a return to the Super Bowl isn't as far fetched as you think.
Chicago Bears
Quarterbacks they should consider: Mitch Trubisky
Quarterback they should get: Mitch Trubisky
Lets be fair here, the Bears wouldn't have even been struggling to get a playoff spot this year if they hadn't benched Trubisky earlier this year. The fact everyone in the world (not me) thinks just because Nick Foles has a few great games in a row and won a Super Bowl a few years back that he was automatically going to make the Bears a Super Bowl team is laughable. Look what he did with the Jaguars, that went well right? The ability to use the mobility of Mitch to move the pocket with a bad offensive line actually helps the Bears offense. Look at the breakout of running back David Montgomery since Mitch has been inserted back into the lineup. Just remember if it wasn't for a missed Cody Parkey field goal a few years back who knows where the Bears might have ended up and what the perception of Mitch might be. I would give Trubisky a 2-year $45 million deal and see if he can be the guy. Get him some offensive line help, re-sign WR Allen Robinson, and maybe get him a coach that knows how to call plays and maybe JUST MAYBE you will see Trubisky isn't as bad as you thought he was.
New Orleans Saints
Quarterbacks they should target: Jameis Winston and Kyle Trask
Quarterback they should get: Jameis Winston, Yet Taysom Hill will be the QB because Sean Payton loves him
The New Orleans Saints will be entering unfamilar territory next year. Long time quarterback Drew Brees is reportedly going to retire after this season and the Saints will have an obvious need at the position. Let me start with this: I expect Taysom Hill to be the starter for New Orleans in 2021. Head coach Sean Payton has some weird fascination with him but I wasn't sold on the guy. Hill is a nice gadget player but that's about it. Let me start with Kyle Trask. The Saints picking late in the first round is where I project Trask to be taken either by New Orleans or Pittsburgh. Trask would be a good guy to draft sit a year or two behind Taysom Hill so when Payton realizes he screwed up he has another quarterback who has shown promise to insert into the lineup. But here is what I would do. You already had Jameis Winston on the roster this year and he had a year to learn from Brees and learn the system. I would sign him to a one or two year deal and see if he is your guy. Keep in mind you would still have Hill and could still draft Trask just in case. Winston did throw for over 5000 yards and 33 touchdowns just two years ago. Yes, he did throw 30 interceptions but I trust the ability of Sean Payton to put Winston in a better position to succeed than Bruce Arians did when Winston was in Tampa Bay. Look what Payton did with Teddy Bridgewater! Give Winston shot and if it doesn't work you still have a guy on the bench with high upside you can put into the lineup. If it does work you can trade Trask for a draft pick and add to the roster. Re-signing Winston seems like a no brainer to me for the New Orleans Saints entering the 2021 season.
Detroit Lions
Quarterbacks they should target: Zach Wilson and Trey Lance
Quarterback they should get: Zach Wilson
Zach Wilson has been flying up draft boards over the last few weeks and most mock drafts have him in the top 5 right now. Based off how I see things playing out I expect Wilson to be on the board when the Detroit Lions pick at number 7. Why is Trey Lance on this list? Just in case Wilson goes higher or someone leaps in front of the Lions to draft him before they have the chance too. I project the Lions to move long time starter Matthew Stafford this off-season so quarterback will be an immediate need for Detroit who is entering a rebuild. Zach Wilson and his playmaking ability is something that would excite Lions fans who over the last few years haven't had much to be excited about. Pair him up with De'Andre Swift and you can run a pretty nasty RPO. If Detroit is smart they will keep pending free agent WR Kenny Golladay and combine him with TE T.J Hockenson so Wilson will have two reliable targets to throw the ball to right away. Upgrade the offensive line add another wide receiver and boom Detroit might have something on the offensive side of the ball. Wilson is the ultimate boom or bust prospect IMO and I have him ranked as the second best quarterback in this draft. His ability to make plays with his feet is something quarterbacks need in this age of the NFL and I think he would be the perfect fit for the Lions.
Thanks for checking out my latest piece and if you have any comments plus put them at the bottom of this page and tell me if you disagree with anything and we can debate it. As always make sure to check out The Buzz for all of your entertainment, lifestyle, wrestling and sports needs.