Did you ever think 10 years ago the 2020 NFL season would bring us a team with no name, a new anthem policy, games on Tuesday Nights, no fans in the stadium, and players protesting racism and hate? Yes, things sometimes need evaluation, adaptation, and change can be a positive and negative. 
A year ago, demonstrations by the players would have ignited a fierce debate among fans and anxiety and apprehension by the league's owners. While some teams wanting to avoid controversy of-any kind chose to stay in their locker rooms while others took the opportunity to raise awareness. The league embraced the players efforts even at the cost of alienating fans who do not want social statements to encroach on their sports viewing. I happen to be one of those fans. Watching the games for me is my escape. Some people run, some people spend time on the water or in the mounts to clear their minds from the day to day grind. I watch Football. I appreciated when the NFL provides the players with platforms like My Cause My Cleats. I feel it is a more positive platform that allows them to reveal their individual passions beyond the game and wear their hearts on their feet with custom cleats. While allowing me to have my escape of the day to day grind. The cleats are currently being auctioned off to raise awareness and money for each players individual cause.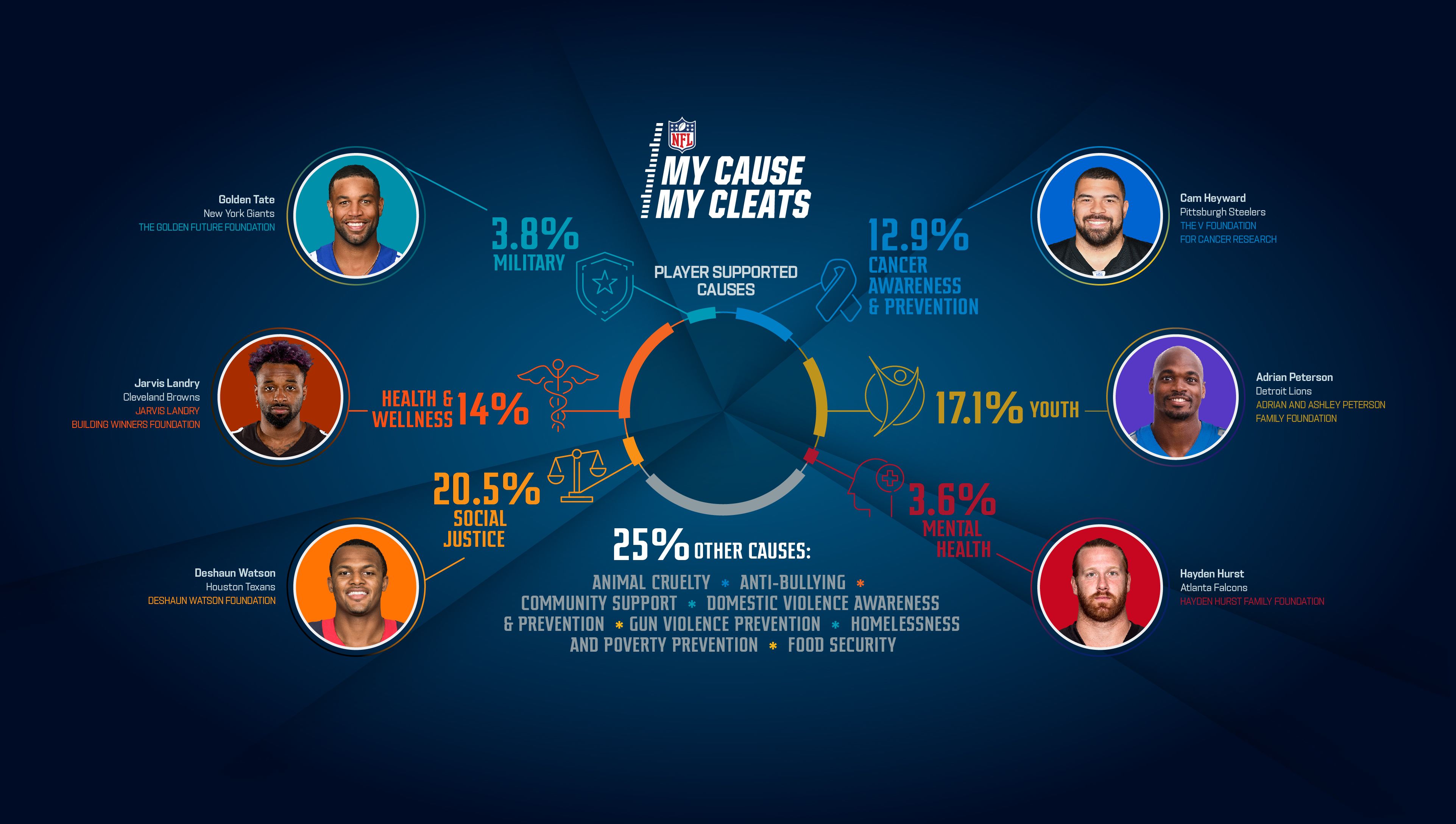 With all the demonstrations and stances some player took, I thought it would be interesting to see what players individually chose for My Cause My Cleats. As expected there was a tone of support for Black Lives Matter, children hospitals nationwide like St. Jude, American Cancer Society, or foundations built by the individual players themselves. Not that any of these well known foundations are bad in anyway and I truly mean in anyway. A giving person is a giving person no matter who you are helping. I just wanted to learn about some of the smaller organization and foundations that players chose to support. These are some of the ones that were a little more out of the box and closer to their hearts as possible.
Below is a list of ten players from ten different teams along with a little bit about the organization. Perhaps is will inspire you to go bid on a custom pair of cleats or just donate a small amount to an organization that speaks to you. Check out My Cause My Cleats at https://www.nfl.com/causes/my-cause-my-cleats. You can also find a list of every player participating and the cause they are supporting.
Bonus at the end! I did add an extra one. I could not leave off one of my favorite players.
Arizona Cardinals Chase Edmonds: Girls Inc. is a United States 501 nonprofit organization that encourages all girls to be "Strong, Smart, and Bold" through direct service and advocacy. The organization equips girls with the skills to navigate through economic, gender, and social barriers and to grow up as independent individuals
Buffalo Bills Justin Zimmer: For Goodness Sake is a furniture bank that provides donated furniture and household goods to families in Central Connecticut moving out of homelessness
Houston Texans Alex McGough: GiGi's playhouse changes lives through consistent delivery of free educational, therapeutic-based and career development programs for individuals with Down syndrome, their families and the community, through a replica playhouse model
Indianapolis Colts Philip Rivers: kNot TODAY Foundation is a faith-based organization existing to serve both local and national communities by combating the sexual abuse and exploitation of children
Los Angeles Chargers Asai Gilman: Ho'ola Na Pua stops Sex Trafficking in Hawaii and US committed to the prevention of child sex trafficking and providing care for children who have been exploited.
New England Patriots Devin McCourty: The Tears Foundation lift a financial burden from families who have lost a child by providing funds to assist with the cost of burial or cremation services.
New Orleans Saints Josh Jill: Shatterproof is a national nonprofit organization dedicated to reversing the addiction crisis in the United States
Pittsburgh Steelers Chase Claypool: SAVE: Suicide Awareness Voices of Education is based on the foundation and belief that suicide is preventable and everyone has a role to play in preventing suicide. Through raising public awareness, educating communities, and equipping every person with the right tools, we know we can SAVE lives.
Tennessee Titans AJ Brown: Sentencingproject.org works for a fair and effective U.S. criminal justice system by producing groundbreaking research to promote reforms in sentencing policy, address unjust racial disparities and practices, and to advocate for alternatives to incarceration.
Washington Football Team Dustin Hopkins: Loads of Love Program aims to install laundry facilities in schools and non-profit organizations to directly impact children experiencing homelessness or an unstable living situation at no cost to them or their families.
Seattle Seahawks Shaquem Griffin: Special Olympics. Yes, he is one of my favorite players along with his twin brother Seahawks Cornerback Shaquill Griffin. Shaquem is an incredible young man and inspiration to so many I just could not leave him out. He has overcome some many obstacles in his life and has never allowed it to hold him down. I have had the honor and privilege to spend time and get to know both of the Griffin Twins along with the rest of the Griffin Family. Truly one of the most humbled, kind hearted, and hilarious families I have ever meet. The Special Olympics is also an organization that is near and dear to my heart as I have a family member and a very dear friend with special needs. I may have placed a bid on this pair of cleats or ask Santa for them. #TrustTheProcess